By Ashley Huggins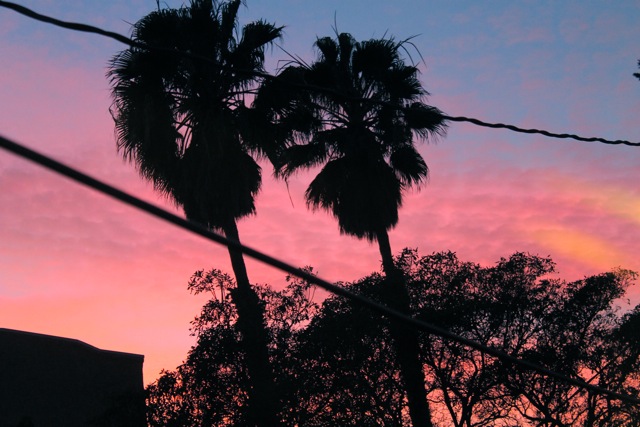 Tragically, this week I discovered that I have misplaced the charger for my beloved camera. Somewhere and somehow, in the process of essentially moving three times within a two-month period, the charger has disappeared. This wasn't a problem until now since, due to an extremely busy schedule this semester, my camera has been severely underutilized. Unfortunately, although I've now ordered a new charger from Amazon, at the moment I'm basically stuck in photo limbo as I wait for it to arrive, forcing me to rely on LA cliché instead of actual adventuring, shallow affection rather than deep love. But that doesn't make this reason any less true. So…
Reason #3: Weather
Yeah….I really wasn't lying about cliché.
I always found it interesting that everyone always associates Los Angeles with fantastic weather. I took a class freshman year for a GE (America, the Frontier, and the New West) that really focused on LA. As part of this class, I had to do an interview project, asking random Angelinos about the city: what they love, what they hate, how it's changed, and so on. Out of everyone I talked to, they all professed their love for the amazing weather. I'm not going to lie; I can't really disagree with any of them. It's pretty incredible that girls are able to tan in McCarthy quad pretty much year round, but I also enjoy a little rain and gloom every now and again. Los Angeles is still pretty much perfect in this regard, as every now and again, I get to dig out my boots and umbrella and happily splash through puddles as I skip to class. Though this doesn't happen particularly often, it happens often enough to satisfy me.
In any case, I love the ever-present sunshine of LA. I have a couple of palm trees just outside my kitchen window always reminding me of this fact. And the other day, before my dear Canon was rendered useless by its dead battery, a ridiculously gorgeous sunset consumed the sky, signaling the end of another perfect day in LA and the beginning of a perfect evening. And hey, even if you can't breathe the LA air because of the smog, you have to admit that at least the smog makes a beautiful sunset.
---