Patriotism in the Democratic Party: How Richard Rorty Was Wrong
This paper analyzes the nature of liberal patriotism in the United States. Since the 1960s, the Democratic party has appeared to struggled with the concept of patriotism, believing in the possibilities of America's future while simultaneously criticizing aspects of its past and present, an acknowledgement many on the Right view as unpatriotic. In his 1998 book Achieving Our Country, Richard Rorty argues that the Democratic party will not succeed until it learns to fully embrace patriotism. This paper demonstrates why, almost twenty years later, Democrats are still characterized as unpatriotic by Republicans despite attempts to rectify this perception: there exist two, distinct definitions of patriotism from the Left and the Right which are inherent to their political ideologies and perceptions of America. Rorty's advice regarding patriotism was therefore incomplete and incorrect, and reality suggests that this distinction will continue to exist given America's current socio-political set-up.
… one of the essential transformations which the cultural Left will
have to undergo is the shedding of its semi-conscious anti-
Americanism, which it carried over from the rage of the late Sixties.
This Left will have to stop thinking up ever more abstract and abusive
names for "the system" and start trying to construct inspiring images
of the country. Only by doing so can it begin to form alliances with
people outside the academy ⎯ and, specifically, with the labor unions.
Outside the academy, Americans still want to feel patriotic. They still
want to feel part of a nation which can take control of its destiny
and make itself a better place.
⎯ Richard Rorty, Achieving Our Country, 98-99
Richard Rorty's analysis of the Left is the premise of this paper and inspiration for the following question: Since Rorty published Achieving Our Country in 1998, has the Left learned to embrace patriotism?
As a self-declared liberal who has personally struggled with conflicting feelings of national pride and guilt, I found Rorty's nineteen-year-old advice to be an interesting lens through which to study the historical progression of the Leftist mindset and the Democratic Party in particular. Ultimately, while Rorty was correct in identifying patriotism as a key factor of political success, he fatally assumes that there is only one definition of patriotism upon which all, or at least most, Americans could agree. This paper will subsequently demonstrate that while the Democratic Party has embraced patriotism, it is a Liberally-defined patriotism which is unlikely to ever be recognized or believed by large swaths of Conservatives without a major shift in ideology.
Implicit in Rorty's statement and many political discussions is that the Right and the Republican Party are the true embodiers of patriotism, and have been since the Vietnam War [1]. The Democratic Party has subsequently had to struggle against the label "unpatriotic," a stain on party pride and a hindrance in national elections. Fighting against this historical association, there are individuals within the Democratic Party who have taken up Rorty's call to action and promoted the embodiment of patriotism on the Left. During a 2004 presidential election campaign speech, John Kerry explicitly called out this patriotism party association, saying "I want to make it clear to all Americans again that the flag that's standing behind us … doesn't belong to any president. It doesn't belong to any party. It doesn't belong to any ideology. It is the symbol of the nation. It belongs to all of us [2]." Robert Reich espoused a similar thought in his 2006 political guidebook, What the Democrats Should Do, arguing, "[t]he common good is the essence of patriotism. Democrats have allowed Republicans to claim the mantle of patriotism, but Republicans have almost nothing to say about the common good. They do not even use the term [3]."
These rebukes of the common Conservative narrative regarding patriotism by two top Democratic officials indicate an awareness within the party of its perceived weakness over a decade ago, but despite this general agreement with Rorty's 1998 policy suggestion, public perceptions of patriotism did not change automatically. The Democratic Party as a whole and individual politicians have continued to face criticism for their perceived lack of patriotism throughout the 2000s and into the 2010s, a phenomenon clearly demonstrated during the Barack Obama era.
Obama was characterized by many on the Right as unpatriotic both during his election campaigns and while serving as President. During the 2008 campaign, rumors circulated that he did not stand for the Pledge of Allegiance and he was condemned for not wearing a U.S. flag lapel pin [4]. Such accusations are important in light of a 2010 study on American patriotism, which found that 88% of Conservatives and 90% of Republicans interviewed were strong symbolic patriots, meaning they identified and celebrated national pride through symbols [5]. Given that both of these findings were statistically significant, it suggests that Obama's perceived patriotism was notably hurt by these actions. Coupled with criticism of comments made by Michelle Obama, perception of Barack's patriotism suffered; in a May 2008 Pew Research Center Poll, only 61% of registered voters questioned considered Obama patriotic, as opposed to 90% for John McCain and 75% for Hillary Clinton [6].
Despite this unfavorable patriotism impression, Obama eventually won the Democratic nomination and the presidency. In his acceptance speech on November 4, 2008, Obama appears to speak directly to his critics, calling for "a new spirit of patriotism, of responsibility, where each of us resolves to pitch in and work harder and look after not only ourselves but each other [7]." This attempt to rebrand patriotism speaks to the communal nature of Obama's policy goals and his new vision for America, something he again revisited during his 2012 campaign with the promotion of "a new economic patriotism [8]." However, his rhetoric did not stave off all critics; Mitt Romney's campaign used Obama's previous statements on the national debt to characterize him as unpatriotic [9].
Nevertheless, Obama won the 2012 election, and as President continued to reference patriotism in his public appearances. In a May 2014 speech at West Point Military Academy, Obama declared "I believe in American exceptionalism with every fiber of my being," and at the American Legion National Convention three months later, he described America as "the greatest democratic, economic, and military force for freedom and human dignity that the world has ever known [10]." These statements indicate Obama's deep love and respect for the United States, but apparently were not enough for some. In 2015, former New York City Mayor Rudy Giuliani contrasted Obama's rhetoric with that of Ronald Reagan and Bill Clinton, saying "I do hear [Obama] criticize America much more often than other American presidents. And when it's not in the context of an overwhelming number of statements about the exceptionalism of America, it sounds like he is more of a critic than he is a supporter [11]." Obama's previously quoted, vehement praises of America could just as easily have come from Reagan, but because of his hopes for improving the country, which Giuliani and others Conservatives interpreted as "criticism," Obama's patriotism was deemed weak to the point of being irrelevant. In this way, despite employing patriotic rhetoric almost to the point of sounding nationalistic, Obama was still condemned for failing to praise America at all times, a key problem for Democrats today.
Looking beyond the Obama years, there are individuals on both the Right and the Left who believe the Democratic Party changed during the 2016 presidential election. In July 2016, Republican consultant Rory Cooper said the "Democratic speeches so far have done a very good job of co-opting Republican language on exceptionalism and patriotism [12]." This sentiment was also shared by Pete Wehner, former aide to President George W. Bush, who thought the Democrats were "trying to become the party of patriotism, the party that loves America, that is proud of America, that defends America [13]." This shift towards open patriotism was embraced in the July 2016 Democratic National Convention, replete with waving American flags, praise for military and police officials, references to Ronald Reagan, and chants of "USA, USA" [14].
Before the election, some Democrats hoped that this embrace of patriotism would be enough to win the presidency, especially in the face of Trump's apparent lack of it. Trump's criticism of First Amendment rights and former prisoner of war John McCain, his positive view on Russia and resuming torture, and his ambivalence towards the military seemed to Cathleen Decker of the Los Angeles Times enough to guarantee the title of patriotic party for the Democrats [15]. However, not everyone agreed with this assessment. Peggy Noonan of the Wall Street Journal felt that Trump's appeal was exactly because of his patriotism; according to Noonan, voters were drawn to Trump because of his promises to "[make] America great again ⎯ through border security and tough trade policy," a welcome change from Obama's internationally-oriented ideology [16]. The language he used during the campaign dripped with nationalism, from his promotion of American businesses to his calls to "Build the Wall." Based on the results of the election, it appears the Noonan may have been closer to the truth than Decker regarding perceptions of Trump.
Nevertheless, Democrats have not lost hope. Since Trump was elected, he has continued to criticize constitutionally given rights and appeared to personally benefit from the presidency through his business interests [17]. Some have taken this as a sign that the tide will finally shift; according to CNN's Ruth Ben-Ghiat, "[we] will remember 2017 as the year patriotism started to acquire a new vitality and force among Democrats — and the year that the GOP lost control of its narrative [18]." Subsequently, Democrats have been working even harder than before the election to emphasize their patriotism through the promotion of Liberal veterans as political candidates [19]. This push is hoped to counteract Democrats stereotyped anti-military stance, a continuing perception over forty years after the Vietnam War. When Senator Tammy Duckworth first ran for election to the House in 2012, people told her, "We didn't know there were Democrats in the military." This surprisingly common misconception indicates the power this move towards veterans is anticipated to have for the Democratic party [20].
Hence, there are many on the Left who feel the Democratic party is in the process of or has already fixed its patriotism perception problem enough to woo Conservatives. However, despite this hope, there exists statistical evidence that would suggest why Democrats have continued to struggle in creating a patriotic image for themselves during the examined time period. The previously-cited findings regarding the significance of symbolic patriotism to Republicans and Tea Partiers also has implications for political campaigns. Many Republican election slogans since 2000 have appealed to symbolic and nationalistic rhetoric, such as George W. Bush's "Yes, America Can!," John McCain's "Country First," Mitt Romney's "Believe in America," and the most recent example, Donald Trump's "Make America Great Again" [21]. These slogans contrast drastically with Barack Obama's "Hope" and "Forward," and Hillary Clinton's "Stronger Together," which appeal to hopes for the future but appear to lack national pride [22]. The only Democratic slogan referencing America since 2000 is John Kerry's "Let America be America Again" in 2004, an arguably less exciting cheer than George W. Bush's campaign from the same year [23].
At a first glance, this analysis would suggest that perceptions of Democratic patriotism could be improved through the use of patriotic messages and symbols during campaigns. However, this may not be a simple fix. When it comes to the American flag and its use in political campaigns, a 2015 psychological study found that flag imagery slightly benefits Republicans through its effect on voter choice, but imparts no advantage on Democrats [24]. This surprising result would suggest that the change in presentation seen at the Democratic convention in 2016 and other such rallies did not actually increase the number of votes for Clinton and wouldn't help future Democratic candidates. It may also have further implications for campaign rhetoric, and could suggest that even if the Democrats referenced America in their presidential slogans like the Republicans, it would not confer significant benefits.
Beyond rhetoric, perceptions of the Democratic party have also likely been hurt by its stance on gun-control. A Fox News Poll from 2014 found that 69% of Republicans and 79% of Tea Party activists considered owning a gun to be a patriotic act, as opposed to 35% of Democrats and 40% of Independents [25]. This is an important finding given the association between political leanings and stances on gun control; a CBS News Poll from February 2013 found that 78% of Democrats and 25% of Republicans thought laws covering the sale of guns should be more strict, a ratio that has slightly fluctuated but generally remained intact through the most recent survey from April 2017, during which 73% of Democrats and 35% of Republicans favored stricter laws [26]. Since the Las Vegas shooting on October 1, 2017, during which 58 people were killed and nearly 500 wounded, some Republicans have joined Democrats in calling for the restricted sale of bump stocks, which allow ordinary rifles to simulate the rapid fire of automatic weapons [27]. Following the shooting in Sutherland Springs, TX, individual Congressional Republicans have joined Democrats in demanding new ways to limit domestic abusers' access to guns [28]. However, new gun legislation is still predominantly run by Democrats and has yet to be embraced by Republican leadership. This phenomenon is exemplified by Republican Speaker of the House Paul Ryan, who, following the Texas shooting, has failed to support gun control legislation and instead claimed that "prayer works" to stop gun violence [29]. Given this partisan divide on gun control and gun ownership, and that people who support gun ownership tend to consider gun reform as a limitation on their Second Amendment rights, such Conservatives tend to view Democrats as less patriotic.
There are additional ideological reasons Conservatives criticize Liberals' patriotism, ones which could ultimately prevent certain groups from voting Democrat. A Townhall article by John Hawkins articulates the five reasons he believes Liberals are unpatriotic: they think success is unjust, they manipulate history to portray America negatively, they are utopians, they view themselves as more sensitive and therefore superior, and they always do the opposite of Conservatives [30]. While these descriptions exaggerate Democratic ideology, they are based in some truth that is currently fundamental to the Liberal cause. Many people who have achieved success, particularly white males, have done so at the expense of marginalized groups that are both systematically and systemically disenfranchised, hence Democrat's promotion of equality. The truth is not that Liberal historians strive to criticize the United States, but that previous historical accounts have often failed to address these negative aspects of our country's history. Liberals and progressives genuinely believe in America's potential for a better future; it is not simply a power grab. Liberals do not actively oppose Conservative ideology simply to distance themselves from the Right, but because in many areas there exists an honest divide in national outlooks, and Democrats do display patriotism, just often in a different way than Republicans. All of these factors are inherent to Liberal doctrine and will continue to be so, notwithstanding a major, unforeseen ideological shift. The fact that these policy stances can be so easily manipulated by Conservatives into evidence for anti-patriotism unfortunately suggests that the Democratic party will be easily blocked in their efforts to win over Republicans who continue to follow Hawkins's way of thinking.
Additional evidence supports this grim reality. In Achieving Our Country, Rorty states that Democratic ideology is driven by the promise of America's future, while Republican ideology is driven by an attempt to return to the past [31]. Peter Beinart, senior fellow at the Council on Foreign Relations, takes this theory a step further, equating these policy differences to the parties' distinct definitions of patriotism [32]. According to this theory, there is practically no overlap in what patriotism means for the Left and the Right, a harrowing challenge for Democrats to deal with. Without ideological commonalities, it would seem near impossible for Democrats to embody Republican-style patriotism without abandoning their own belief systems. Additionally, studies have shown that blind patriotism, which is defined as "an attachment to country characterized by unquestioning positive evaluation, staunch allegiance, and intolerance of criticism" is positively, significantly associated with political conservatism [33]. Some might perceive this definition as contradictory to Conservatives' goal of reinstating the country's past, which inherently includes criticism of present-day America. However, these ideas actually complement each other. Conservatives often define the true spirit of America in terms of its former glory and appearance, not its current manifestation. Hence, when Conservatives criticize present day America in pursuit of returning to the past, they are simply honoring what they perceive as the "real" America. In essence, Conservatives display blind patriotism to America's past, not America's present. This reality is what further dooms the Democrats. When Liberals talk about improving America, they talk about a greatness that has yet to be achieved. In this way, they are not only criticizing present-day America, but the historic America which many Conservatives have idealized and devoted themselves to recreating. This is why Democratic policies alienate individuals who prefer to ignore flaws in the nation's past.
According to E. J. Dionne Jr., Norman Ornstein, and Thomas E. Mann in their recently released book One Nation After Trump, the solution to such political divides, which have been magnified under President Trump, is to promote a new patriotism dedicated to pluralism and empathy [34]. This patriotism should be based around our national motto E pluribus unum, "out of many, one," and should celebrate the many subgroups that make up America while encouraging empathy on all sides [35]. This suggestion, though understandable in an idealized world, would not serve as a successful policy route for Democrats. According to Arlie Hochschild's book Strangers in Their Own Land, Conservatives are tired of being told who to feel sorry for [36]. This sentiment is fully realized through their "deep story," as Hochschild describes it. White, middle-class Americans feel they have been waiting in line to achieve the American Dream, when suddenly line-cutters appeared: women, people of color, immigrants, etc [37]. Not only that, but Democrats such as Obama have encouraged these line-cutters, an act many of Hochschild's interviewees viewed as betrayal [38]. This deep story is what currently prevents white, middle and working class Conservatives from empathizing with the marginalized groups often championed by the Democratic Party, which is unlikely to abandon these people in search of new voters. In this way, embracing empathy would not solve the Democrats' patriotism problem since it would fail to connect with, and could likely push away, Conservative voters. This is not to say the problem of empathy rests solely with Conservatives; Liberals as well need to learn how to empathize with the other side, something Hochschild barely, if at all, accomplishes through her time in Louisiana. In reality, both groups would need to climb the "empathy wall" in order for empathy to become a valid type of patriotism for the Democrats, but this is unlikely to happen in the near future [39].
Hence, given the current state of the American political divide, Conservatives are unwilling or unable to view Liberals as patriotic, demonstrating the fatal flaw in Rorty's manifesto. Obama perfectly encapsulated Rorty's ideal form of Democratic patriotism during his speech for the fiftieth anniversary of the Selma March, saying
What greater expression of faith in the American experiment than this,
what greater form of patriotism is there than the belief that America is
not yet finished, that we are strong enough to be self-critical, that each successive generation can look upon our imperfections and decide that
it is in our power to remake this nation to more closely align with our
highest ideals [40]?
This passage speaks about love for one's country, the promise of America's future, and pure pride in this nation, and yet some would argue that Obama, and the Democratic party as an extension, demonstrate the same lack of patriotism characteristic of the Left in 1998. This is because Rorty fails to address the complexities of patriotism in America, the two contrasting definitions espoused by Liberals and Conservatives, and the impossible transformation the Democratic party would have to undertake to symbolize patriotism in the way Republicans currently do. His guidance, though sound at first glance, is an incomplete thought that could only be achieved through the abandonment of the Liberal ideals Democrats hold close at heart.
While this problem has existed for decades, it has been complicated even further by the rise of Trump, who has been characterized by some as bringing a new age for the Democrats. Yes, Trump has made comments during his presidency that can be described as unpatriotic. However, what has been overlooked in these analyses is Trump's maintained use of patriotic rhetoric and tangible policies. As President, Trump has instated a travel ban in the name of protecting American citizens; signed an executive order which is supposed to benefit American workers by initiating a review of the H-1B visa program; and declared July 17, 2017 as "Made in America Day" and January 20, 2017 as "National Day of Patriotic Devotion", which coincides with his inauguration [41]. More recently, Trump has stepped into the battle over National Anthem protests, a debate which could have further consequences for the Democrats.
During the 2016 football season, San Francisco 49ers player Colin Kaepernick began kneeling during the National Anthem to protest police brutality [42]. During an interview with Fox News' Sean Hannity in October 2017, Trump transformed this peaceful act of protest into a question of patriotism, saying, "you cannot disrespect our country, our flag, our anthem, you cannot do that," referencing Kaepernick [43]. This reframing has already changed the conversation surrounding Kaepernick, taking attention away from racial bias in policing and focusing it on the significance of protesting the National Anthem [44]. This shift could potentially solidify the Democrats' standing as the unpatriotic party, since they have been more supportive of Kaepernick's protest than their political opponents; in a September 2017 CNN poll, 72% of Democrats interviewed approved of Kaepernick's actions, whereas 87% of Republicans disapproved [45]. This stark difference indicates the likely ramifications of Trump's criticism of Kaepernick and the long road left ahead for the Democratic party. Despite embodying what the Left views as patriotism, they have yet to achieve the uncontested title of "patriotic party" in the eyes of the Right.
Brittney Kidwell is a double major History and Economics at the University of Southern California, graduating in May 2018. She has participated in various student organizations, including Swipe Out Hunger and the USC Journal of Law and Society. She will be starting law school in the Fall.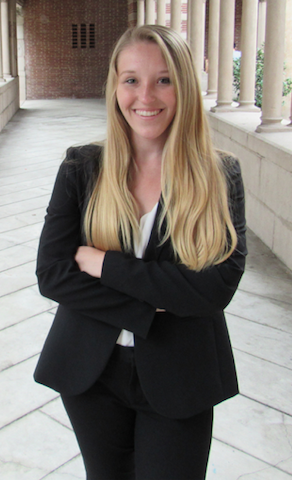 [1] James Taranto, "The Democrats' Patriotism Problem," Wall Street Journal, August 30, 2004, https://www.wsj.com.
[2] John Kerry, 2004 Missouri Campaign Speech, in "Kerry Presents Himself as a Patriot With a Different View" by Robin Toner, New York Times, June 4, 2004,  https://www.nytimes.com.
[3] Robert Reich, "What the Democrats Should Do" Challenge 49, no. 1 (January-February 2006): 9.
[4] Amy Chozick and Laura Meckler, "Campaign '08: Obama Delivers Speech Defending His Patriotism; Moving to Defuse Persistent Prolbem for the Democrats," Wall Street Journal, July 1, 2008, https://www.wsj.com.
[5] Christopher S. Parker, "Symbolic versus Blind Patriotism: Distinction without Difference?," Political Research Quarterly 63, no. 1 (March 2010): 97, 105.
[6] Ibid.
[7] Barack Obama, 2008 Presidential Acceptance Speech, in "Transcript: 'This is your victory,' says Obama," CNN, November 4, 2008, http://edition.cnn.com.
[8] Laura Meckler, Colleen McCain Nelson, "Election 2012: Candidates Exchange Barbs on Patriotism," Wall Street Journal, September 28, 2012, https://www.wsj.com.
[9] Ibid.
[10] Barack Obama, "I Believe in American Exceptionalism" (speech, West Point, NY, May 28, 2014), in "Obama: 'I Believe in American Exceptionalism with Every Fiber of My Being'" by Jon Queally, Common Dreams, May 28, 2014, https://www.commondreams.org ; Barack Obama, "The Greatest Democratic, Economic, and Military Force" (speech, Charlotte, NC, August 26, 2014), Obama White House, https://obamawhitehouse.archives.gov.
[11] Rudy Giuliani 2015 Speech, in "Doesn't 'love' America? Giuliani clarifies Obama patriotism comments," Fox News, 19 February 2015, http://www.foxnews.com.
[12] Rory Cooper in "Democrats Eager to Woo Republicans Who Are Wary of Trump" by Nicholas Confessore, New York Times, July 28, 2016, https://www.nytimes.com.
[13] Pete Wehner, Ibid.
[14] Cathleen Decker, "Here's how Democrats are trying to reclaim patriotism from Republicans – and how Trump helps," Los Angeles Times, July 31, 2016, http://www.latimes.com.
[15] Ibid.
[16] Peggy Noonan, "Declarations: Simple Patriotism Trumps Ideology," Wall Street Journal, April 30, 2016, https://www.wsj.com.
[17] Ruth Ben-Ghiat, "Liberals are reclaiming patriotism from the right," CNN, July 2, 2017, http://www.cnn.com.
[18] Ibid.
[19] Reid J. Epstein, "U.S. News: Democrats Tap Vets for 2018," Wall Street Journal, May 22, 2017, https://www.wsj.com.
[20] Tammy Duckworth, Ibid.
[21] "Presidential Campaign Slogans," Presidents USA, https://www.presidentsusa.net.
[22] Ibid.
[23] Ibid.
[24] Nathan P. Kalmoe and Kimberly Gross, "Cueing Patriotism, Prejudice, and Partisanship in the Age of Obama: Experimental Tests of U.S. Flag Imagery Effects in Presidential Elections," Political Psychology 37, no. 6 (December 2016): 883.
[25] Dana Blanton, "Fox News Poll: Is voting an act of patriotism? What about owning a gun?," Fox News, July 2, 2014, http://www.foxnews.com.
[26] CBS News Poll in "Guns: In general, do you think laws covering the sale of guns should be made more strict, less strict, or kept as they are now?" Polling Report, http://www.pollingreport.com.
[27] Ashley Killough, Ted Barrett, Lauren Fox, and Deirdre Walsh, "Republicans signal some openness to new gun legislation on 'bump stocks'," CNN, October 5, 2017, http://www.cnn.com.
[28] Matt Laslo, "How Congress is Reacting to the Texas Church Shooting," Rolling Stone, November 13, 2017, http://www.rollingstone.com.
[29] Mallory Shelbourne, "Ryan: Praying the right thing to do after mass shootings because it 'works'," The Hill, November 7, 2017, http://thehill.com.
[30] John Hawkins, "5 Reasons Liberals Aren't Patriotic," Townhall, October 8, 2016, https://townhall.com.
[31] Richard Rorty, Achieving Our Country (Cambridge, MA: Harvard University Press, 1998), 14.
[32] "How Do You Define Patriotism?" CBS News, November 2, 2008, https://www.cbsnews.com.
[33] Robert T. Schatz, Ervin Staub, and Howard Lavine, "On the Varieties of National Attachment: Blind versus Constructive Patriotism" Political Psychology 20, no. 1 (March 1999): 151.
[34] E. J. Dionne Jr., Norman J. Ornstein, and Thomas E. Mann, One Nation After Trump (New York, NY: St. Martin's Press, 2017), 13.
[35] Ibid.
[36] Arlie Russel Hochschild, Strangers in Their Own Land (New York, NY: The New Press, 2016), 139.
[37] Ibid., 137.
[38] Ibid., 139.
[39] Ibid., 5.
[40] Barack Obama, "Selma" (speech, Selma, AL, March 7, 2015), in "Transcript: Read Full Text of President Barack Obama's Speech in Selma," Time, March 7, 2015, http://www.time.com.
[41] Adam Liptak, "Supreme Court Allows Trump Travel Ban to Take Effect," New York Times, December 4, 2017, https://www.nytimes.com ; Glenn Thrush, Nick Wingfield, and Vindu Goel, "Trump Signs Order That Could Lead to Curbs on Foreign Workers," New York Times, April 18, 2017, https://www.nytimes.com ; Donald J. Trump, "President Donald J. Trump Proclaims July 17, 2017, as Made in America Day and this Week, July 16 through July 22, as Made in America Week," Trump White House, July 17, 2017, https://www.whitehouse.gov ; Mallory Shelbourne, "Trump declares his inauguration day a 'National Day of Patriotic Devotion," The Hill, January 23, 2017, http://thehill.com.
[42] "Trump: NFL should have suspended Colin Kapernick for kneeling," Fox News, October 11, 2017,  http://www.foxnews.com.
[43] Ibid.
[44] Graham Vyse, "Obama Redefined Patriotism. Trump Is Trying to Erase That, Too.," New Republic, September 26, 2017,  https://newrepublic.com.
[45] Jennifer Agiesta, "CNN poll: Americans split on anthem protests" CNN, September 30, 2017,  http://www.cnn.com.
---