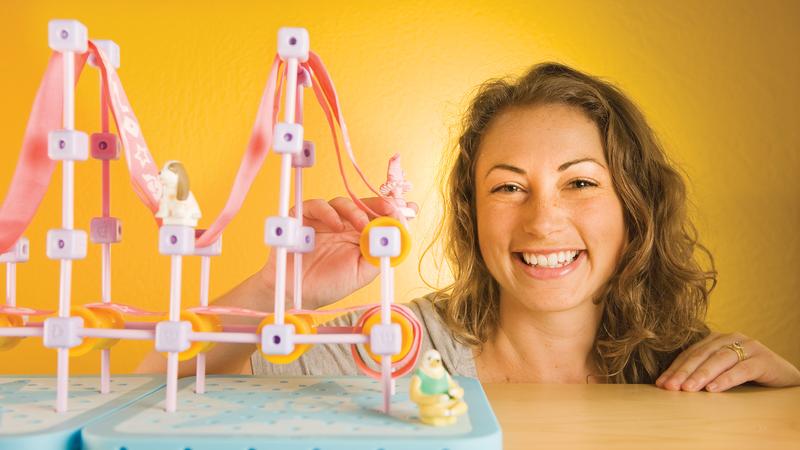 "There's nothing wrong with being a princess we just think girls can build their own castles too" – Debbie Sterling
Debbie Sterling graduated from Stanford with a degree in Mechanical Engineering and Product Design in 2005. During her time in school she was passionate about engineering, but felt isolated as one of the very few female engineering students. She was often questioned on whether she should be there and was not always taken seriously. It was precisely these experiences that motivated her to create a new environment for future female engineers. She decide to launch her own company with the aim of "disturbing the pink aisle". Thinking that there should be more toys that encourage building skills for young girls, she created GoldieBlox.
GoldieBlox is a toy company aimed at inspiring girls to pursue careers in engineering. Her toys attempt to close the gender gap in science, technology, engineering, and math fields by making fun toys for girls that teach basic physics principles. GoldieBlox is a book and construction set that follows the life and adventures of Goldie as she solves different problems by building machines. Sterling created her company in 2012 using Kickstarter as a launching platform.  Her kits are now sold in 6,000 stores around the world including Target, Toys "R" Us, and Walmart. She has grown her dream into a well-recognized brand. The company has done extremely well in the very competitive toy industry and Debbie Sterling leads strong as the current CEO.
GoldieBlox was named one of the "World's Most Innovative Companies" and "Educational Toy of the Year" and has also been featured in the Macy's Day Thanksgiving Parade and in superbowl commercials. Sterling herself has received numerous awards including being named "Presidential Ambassador for Global Entrepreneurship" and being named on Fortune's "Top 40 under 40" list of influential people in business. She has also given Tedx Innovation Talks on inspiring women to pursue engineering in order to gain support and momentum for a new movement.  Debbie Sterling continues to come up with new ideas for her company and strives to encourage the next generation of female engineers through her toys. She is not only a strong role model herself, but is currently paving the way for many amazing little future role models to make their own impact.
________________________________________________________________________________________________________________
Sources: The Guardian" 10 minutes with Debbie Sterling", Engineer Girl "Debbie Sterling", GoldieBlox "Meet Debbie Sterling", TedxTalks"Inspiring the next generation of female engineers" , Fortune"Top 40 under 40″
---