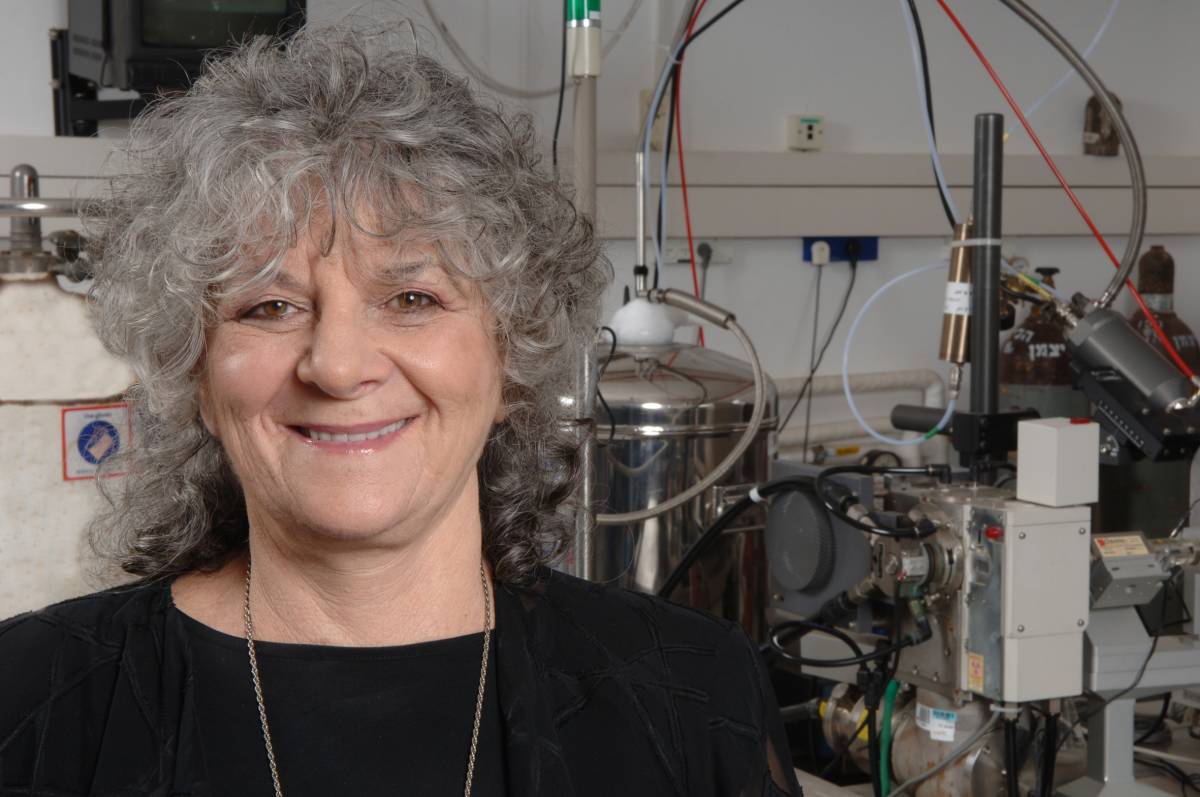 "I don't walk into the lab in the morning thinking, 'I am a woman, and I will carry out an experiment that will conquer the world.' I am a scientist, not male or female. A scientist."
Ada Yonath was born into a poor family in Jerusalem where her family lived in a small four-room apartment with other families. Despite her family's poverty she received a prestigious education from a young age and she had a constant desire to understand the world around her. When she was a girl she attempted to measure the height of her family's balcony using the height of the furniture in their apartment, but she ran out of furniture and ended up with a broken arm. Her spirit could not be broken though as she continued her journey with science throughout her life. She completed her high school education in Tel Aviv after her family moved there when her father passed away after battling some serious medical conditions.
She went on to complete her B.S. and M.S in Chemistry, Biochemistry, and Biophysics. Her research included attempting to reveal the high-resolution structure of collagen, a structural protein found in skin and other connective tissues. She did a year of post-doc work at the Mellon Institute in Pittsburg, Pennsylvania and then moved to MIT to study the structure of globular protein staphylococcus nuclease where she completed her post-doc. Following her post-doc, she decided to go back to Israel and more specifically back to the Weizmann institute, where she originally received her doctorate. It is here that she established the first biological crystallography lab in Israel.
Her goal was to determine the three-dimensional structure of the ribosome. Ribosomes synthesize polypeptides and proteins by binding messenger RNA and transfer RNA. More simply put, they serve as the cell's factory to translate instructions from genetic code to proteins. Yonath chose to focus her research on ribosomes because they play a large role in solving one of the most important outstanding questions about living cells, the process of protein biosynthesis. To reveal the 3D structure at a molecular level crystals are required, but there are some extra difficulties on top of the normal crystallization method because ribosomes are made up of proteins and RNA chains that are extremely complicated. Also, because the ribosome structure lacks symmetry, crystallization is especially difficult. In the 1980s, she was able to create the first ribosome microcrystals, her inspiration again came from nature, this time from an article on the hibernation on bears. Hibernating bears neatly pack their ribosomes so that they stay intact for months during hibernation. To try and replicate this, she looked for ribosomes that originated from organisms that can survive in harsh environments for example the Dead Sea, thermal springs and atomic piles. She faced harsh criticism from her scientific peers when she presented her ideas who called her "the World's dreamer, the village fool, the so-called scientist, and the person driven by fantasies" even after showing them her proof of concepts. Luckily for science, she did not care what people had to say about her and was more concerned with convincing people to allow her to continue her work and the work itself.
She developed a number of techniques that are still used today such as cry-bio-crystallography, which is essentially just exposing the crystals to extremely low temperatures to reduce their likelihood to disintegrate in the X-ray. It took her over two decades, but in 2000 and 2001 she published the first complete three-dimensional structures of both subunits of the bacterial ribosome.  She is quoted as describing the overall journey as "I can compare this journey to climbing Mt. Everest only to discover that a higher Everest stood in front of us". However, all this work and doubt from her peers paid off as she was awarded the Nobel prize in chemistry in 2009 for her work which opened up the world of ribosomes to the public. It has also made Ada Yonath a well-known public figure, especially in Israel, where there is now a saying in the scientific community, "Curly hair means a head full of ribosomes", because Ada Yonath is known for her curly hair.
Although her research started out much like her childhood curiosity, a yearning to understand the nature around her, it has grown into the cornerstone of understanding for the actions of some widely prescribed antibiotics.  This is because ribosomes are essential to life and many antibiotic drugs work on targeting their actions, so further understanding ribosomes can open the door to creating better medicines. One of her most surprising yet influential discoveries, is that the deeper understanding of ribosomes could help in the fight against antibiotic resistant bacteria, one of the larger emerging problems of this era. In the future, Yonath plans to look to the distant past and explore further questions from the data she has currently gathered about ribosomes to answer questions about how they came into being and how they began to produce proteins.
________________________________________________________________________________________
Bibliography:
"Prof. Ada E. Yonath Group RIBOSOME STRUCTURE AND FUNCTION." Ada E. Yonath, Ribosome Structure and Function, Weizmann Institute of Science , <www.weizmann.ac.il/sb/Pages/Yonath/home.html.>
"Ada E. Yonath – Biographical". Nobelprize.org. Nobel Media AB 2014,<http://www.nobelprize.org/nobel_prizes/chemistry/laureates/2009/yonath-bio.html>
---