Every now and then, I will come across videos of artists that make paintings with their hair, feet, anything that has the potential to leave a mark.  The first question that is asked is, Is this really art? Now, the general consensus seems to be that anything unique and one of a kind is worth having. In my opinion, any kind of art that has pushed or gone beyond the trend of the time will always be questioned at the beginning, and then gradually accepted over time
Unorthodox ways of making work has been taken a step further as work is now being made with food. With the huge obsession of the discovery of good food on instagram and facebook, it is now on everyone's radar. The question must be asked again, is this really art?
Steven Rahbany, a junior at the Roski School of Art and Design, has dedicated a body of work to exploring the materiality of food and how it functions as a commodity. Rahbany's work below, Untitled, is wood that is painted with BBQ sauce and an image of an apron and grill. The piece gives the viewer the experience of what it would smell like to be grilling, yet with a visual absence of the burger patty (the commodity) and the consumer. Through this work, Rahbany brings to the audience awareness of what happens with the absence of products and what that does to the consumer. When asked how he deals with people who do not accept this as art, his response was that his intent is to get a reaction from his audience rather than getting people to like his work.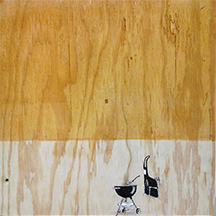 Any type of art that is experimental definitely has a place to be called art. This type of art is not only pushing boundaries but is a new way of visual problem solving that has not been explored in the past.
---