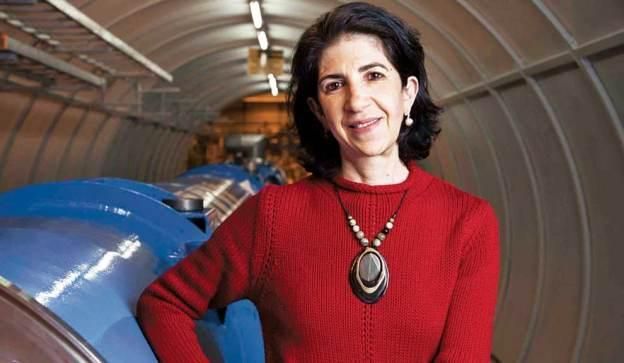 It's always good news when you're closer to the truth.
– Fabiola Gianotti
Dr. Fabiola Gianotti is a well-respected particle physicist and just recently took over the role as Director-General of the European Organization for Nuclear Research (CERN). She is the first woman to ever hold that title. She earned a PhD in experimental particle physics from the University of Milan in 1989. And since graduation she has served in many positions including as a research physicist in CERN and an honorary professor at the University of Edinburgh. She is also the author or co-author of about 500 publications in peer-reviewed scientific journals.
Before settling on physics, Dr. Gianotti was studying philosophy in the hopes of figuring out life's main questions. She eventually changed to physics so that instead of just asking the questions, she could answer them. She has a strong background in the arts as a classically trained pianist and a pursuer of music around the world. This background has given her a unique love of both science and the arts. She believes that her passions besides physics, music and cooking, though seemingly opposite, are actually very similar. She says that "all three follow very precise rules; musical harmony is based on physical principles while in cooking, ingredients must be weighed out with precision". Dr. Gianotti has found success in her life by being able to focus on precision as well as being imaginative about the future in order to create something new.
Her first major success was as a research scientist for CERN on the ATLAS project team. Gianotti became the spokesperson and coordinator of the ATLAS experiment. The ATLAS detector is used to record collisions between protons accelerated in the 27km large hadron collider. The hadron collider is essentially the world's most powerful microscope. The hope of this experiment is to observe conditions which are replicated after those similar to the Big Bang. By observing these such particles, scientists could answer world-changing questions: the constitution of dark matter?, whether there are more than 3 dimensions?, and many more. Gianotti and her team were able to observe a new particle they believed was the Higgs Boson. The Higgs Boson was an idea developed by Peter Higgs which suggested that as like in quantum mechanics where fields are made of particles called bosons there might also exist bosons in the field of the universe, essentially all around us. This particle, commonly termed by non-scientists as "God's particle", is expected to confirm many theories about the universe. As the new head of CERN, Dr. Fabiola Gianotti will remain a physics legend and will undoubtedly help advance her field of physics throughout the rest of her career while opening the door for future women to follow in her footsteps. 

______________________________________________________________________________________
Sources: The Guardian: Fabiola Gianotti, CNN: CERN's Fabiola Gianotti, My Hero: Fabiola Gianotti
---