By Juliana Appenrodt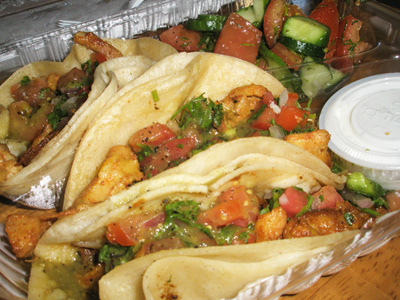 Mexican food was the first to go mobile, so it's no surprise that many of the food trucks that flood the streets today pay homage to their taco-producing predecessors. Many do this by simply including some form of taco, whether filled with peking duck or blackened shrimp, on their menu. Kabob Express, however, goes far beyond the simple taco shout-out, classifying its entire selection of food as Mexi-terranean fusion.
A mix of Mexican and Mediterranean foods, the combination makes sense, even sounds quite appealing. The Mexiterranean tacos, burritos, the chicken kabob and chicken shawarma plates—all of these seemed to fit in well with the truck's overall theme. What didn't quite fit in was the truck's extensive selection of burgers, paninis, tuna melts and the Polish sausage delight. It was almost as if the truck was in the midst of an identity crisis, its entire side covered in menu items, scattered across the windows, the doors.
When it came time to actually try the food though, the crisis was abated. Wanting to stay in touch with the truck's Mexi-terranean roots, I ordered one of the first items on the menu: the Mexi-terranean tacos. Accompanied by a small Greek salad of seasoned tomatoes and cucumbers, the corn tortillas were filled with kabob chicken, red onions, tomatoes and more—a delightful mix of Mexican and Mediterranean flavors. Not to mention, three of these delicious, filling tacos were only $5, a steal for something that tastes this good.
The only problem: Kabob Express wasn't so express. While the making of the food only took about five to seven minutes, paying for the food took much longer. First asking me if I had a smaller bill, as they did not have change for a $20, and then telling me I had to wait for the owner to return to the truck when I offered to pay with
credit card, the cashier added a good 10 minutes to my food truck pit stop. One bite of the tacos, however, and I knew it was worth the wait.
---