Every week, Lilian Min muses on reality + sci-fi/fantasy fiction narrative and fantastical world building in her column "Chasing the Unicorn."
I don't read a lot of comics. HAHA, AS IF. What I mean to say is, I don't read a lot of traditional comics. Yeah, I follow all those "comic book movies" as much as the next person, but I'm more about Scott Pilgrim than Superman, you follow?
But there are a handful of "real comics" that I'm into, and stereotypically so, I'm way into the Young Avengers (the new new one, not the new one), and if your first thought is to roll your eyes and think "OF COURSE," then I don't know what to tell you because you're probably also one of those people who makes the distinction between "real gamers" and "regular people gamers" so get out of here.
Tangent over. Basically, this Young Avengers is part of Marvel's Marvel NOW! reboot initiative. Written by Kieron Gillen and illustrated by Jamie McKelvie, YA (ha) is funny, weird, stylin' as hell, and also a beautiful story that revolves around a non-hetero romance but that doesn't feel pigeonholed or tunnel visioned into that love story at the expense of narrative action.
It also has a gorgeous characterization of a WOC, for whom I've addressed this deliberately misleadingly titled post: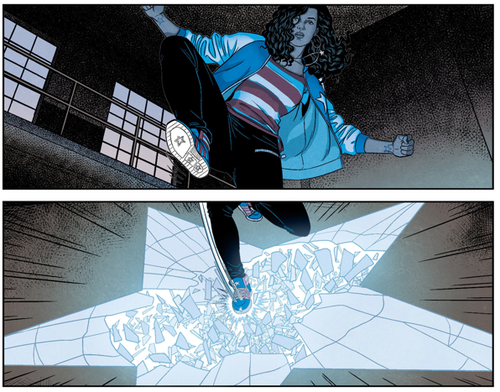 Miss America Chavez is a dimension-stomping alien who is just… ugh… to cross fandoms for a moment here, "so cooooooool!"
Cool characters and snappy dialogue aside, what I love most about YA is how it's so now. It's turning heads within the comics world, which has seen literally every kind of story pass through its paneled history. It draws from real anxieties, not the pseudo-jingoist bullshit that comes from a lot of older comics stories. And most importantly for me, it gives its characters the same unclear motivations and desires that everybody has always had, but within the context of modernity and urgency, both real and within their unreal universe.
There are a handful of series drawing that same praise, for being edgy and trope smashy in a business that's built on stock characterization. Some titles that immediately come to mind are Aja and Fraction's "Hawkeye" and "The Runaways," but I'm sure there's a growing number of mainstream comics that are drawing from that same "we need to shake things up and get more real" philosophy. Like, it's cool to have stories that draw from the past, that are simplistically symbolic and which favor plot-driven intensity over narrative-driven suspension, but let's keep cutting stuff from different cloth, yeah? Smaller publications have been doing this forever, but it's nice to see this change coming from the top too.
---