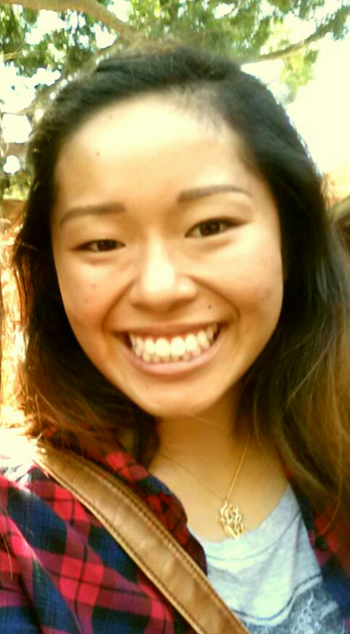 Janella Lee graduated from USC in May 2015 with a Bachelor's Degree in English (Creative Writing). Writing has always been and will always be her special outlet of expression. Talking, she says, has never been her strong point but give her a pen and paper, and you'll find that the words that she couldn't convey before find themselves neatly constructed on the page. Typically, if she's not writing, you'll find her either working as a Writing Tutor at two community colleges, reading a book, spending time with friends and family, or rock climbing indoors or outdoors.
___________________________________________________________________________________________________

Shakespeare has many tragic plays that incorporate the struggles of strong, male characters, and no other tragedies exhibit the severity of male dilemmas like Hamlet and Macbeth. However, critics and readers often overlook the issues that women face within these two plays. In both of these tragedies, the women are being used as mere pawns in fulfilling the intentions of their leading men. In Hamlet, Gertrude is used as Hamlet's scapegoat. As the play progresses, Hamlet's motives change from revenging his father to instigating his mother for the death of Old Hamlet (R.M. Smith, 84). Some critics such as Janet Adelman and Coppélia Kahn accuse Gertrude as the sole reason for Hamlet's destruction, despite the fact that Hamlet takes on the responsibilities of Old Hamlet's revenge of his own accord. In Macbeth, Lady Macbeth is often accused by readers as the main reason that Macbeth falls into a murderous rampage. However, she is never the one to enact a murder, Macbeth is. One can subsequently question whether Lady Macbeth is responsible for all of Macbeth's decisions to murder, or whether she is just being used as a tool for Macbeth's own selfish ambitions the way that Gertrude is being used in Hamlet. Turning to these questions and accusations, this paper approaches Gertrude and Lady Macbeth not as women overshadowed by the men in these plays, but in a new perspective that will show a contrasting spectrum of these female characters that readers often overlook. Both of these women have been characterized as licentious, wicked women that cause the destruction of the protagonists and antagonists. However, these stereotypes must change. Using these women in such a manner overshadows the fact that Gertrude responsibly takes on the roles as a wife and queen; that she is a loving mother to Hamlet, and that she saves Ophelia from eternal damnation. The same consideration also needs to be extended to Lady Macbeth. Critics such as Kahn are so determined to cast her as the villain that they forget that she fails to become the 'evil' woman that she tries to embody. Lady Macbeth never enacts any of the murders nor is she an accomplice in the murders after Duncan. She becomes riddled with guilt while Macbeth remains nonchalant. Lady Macbeth and Gertrude have more significance in Hamlet and Macbeth than what most people believe: without these women, the plots would have never been fulfilled. If we continue to cast 'villainous' women in a bad light, then the misogynistic portrayal of these leading ladies will not only "sustain the systemic degradation and devaluation of women," but it will also encourage these negative representations of female characters throughout modern media and literature (Rooks,152).
There are many of Shakespeare's works that undermine and stereotype women negatively, but Macbeth best incorporates the "gender representation" of women as "alluring villain[s] who exploit [their] sexuality to negotiate and maintain power" through the character of Lady Macbeth (Rooks, 151). Lady Macbeth is never portrayed as a saint-like character. Her strong characteristics and her influential attitude with Macbeth cast her as a devilish woman that uses her sexuality as a "means of manipulation" (Rooks, 153). Lady Macbeth's sensual language and speech becomes a distinguishing factor once she starts to devise plans for Macbeth after he tells her of the witches' agenda:
…Come, you spirits
That tend on mortal thoughts, unsex me here,
And fill me, from the crown to the toe, top full
Of direst cruelty! make thick my blood…
…Come to my women's breasts,
And take my milk for gall, you murth'ring ministers… (I.vi. 39-42, 46-47).
It is rather difficult to imagine this scene differently than what most critics suggest. Everything about Lady Macbeth's speech exudes the sexual and power-hungry image that critics often link to her character. The incorporation of her "breasts" and her "milk" evokes a very sensual display of emotions and image for the reader, leaving Lady Macbeth almost in a state of erotic bliss, which validates critics' claims of her sexuality. Furthermore, because she is so provocative with her language, it becomes difficult for readers not to associate the stereotypical connotations of a sexual woman. Case in point, if Lady Macbeth associates herself with sex and if sexuality is usually related to wickedness, then for readers and critics, she must be a villain. Lady Macbeth makes this harder to dispute when she asks the "Spirits" to demolish and "Stop up th'access and passage to remorse" (I. iv. 43). The fact that Lady Macbeth does not want to be affected by guilt shows that she is determined, to some degree, to become a dangerous character and that she will use any means, including her sexuality, to obtain her goals. She demonstrates this attitude when she calls on the "Spirits" for help and exclaims for them to change her sex and make her into a man; her exclamation of such a drastic change of natural creation along with her "direst cruelty" exhibits Lady Macbeth's thirst for power and her exaltation for men's violence (I. iv. 42).
For most critics, Lady Macbeth's "unsexing" soliloquy in Act I, Scene 4 is the evidence that proves that her unnatural desire is the main reason that Macbeth spirals into murder. According to the article, "The Milking Babe and the Bloody Man in Coriolanus and Macbeth" by Coppélia Kahn, Lady Macbeth's sexual openness is the provocation of Macbeth's murderous state of mind (151). Kahn states that Lady Macbeth is part of the vast majority of women in Shakespeare's works that seeks "to transform themselves into men through the power they have to mold men," which is the power of seduction and sex (Kahn, 151). Kahn also states that women's obsession with power coupled with their sexual appetite confuses the ideas of 'good' men and forces those men to become "beasts or things, insatiable in their need to dominate, anxiously seeking security in their power and their identity, a security they can never achieve because they do not belong to themselves but to the women who made them" (Kahn, 151-52). Kahn's statement can be considered a valid point especially when Lady Macbeth constantly undermines Macbeth's role as a man and also continuously reminds him of her role as a woman.
We can see this play out when Macbeth and Lady Macbeth discuss Duncan's death. Lady Macbeth patronizes Macbeth, "When you durst do it, then you were a man; / And to be more than what you were, you would / Be so much more the man" (I.vii.49-51). Lady Macbeth's belittlement of her husband demonstrates that she is determined to prove herself worthy and stronger than him, and the fact that she has the audacity to make such claims to Macbeth
suggests that there is a power struggle between the two characters. Lady Macbeth also reinforces the ideas of her sexuality as a means of manipulation when she states, "… I have given suck, and know / How tender 'tis to love the babe that milks me" (I.vii.54-55). These lines stress Lady Macbeth's abilities as a woman to produce milk from her breasts and her duties as a woman as a mother-like figure. She reminds Macbeth of her functions as a mother and as a wife, and those sensual connotative images joined with her depreciation of Macbeth's manhood encourage Kahn's interpretation of women and her character to be true.
Given the faults of Lady Macbeth's character, it seems impossible to find any value to her role in the play as well as reasons that can change our negative perceptions of her; however, if we were to change our outlook on Lady Macbeth and put less of the fault on her and place more of the blame onto Macbeth, we can see that her part in all of the play's destruction lies more with her husband than with herself. Even though Lady Macbeth never actually kills anyone, critics still argue that her persuasive influence on Macbeth's mind makes her the real murderer of the play. Yes, it is unarguable that she does have a great impact on her husband's actions and that she does her best to be a villain; however, Lady Macbeth fails to fully partake in every course of Macbeth's decisions, and she also fails to be the character of evil that she demands the "Spirits" to help her become. Her failures constitute that she is truly not an evil woman. If she was completely corrupt as critics claim her to be, then she would have done everything in her power to succeed in her malicious endeavors. Instead of accusing her, critics should pity her and claim that she is more of a victim rather than a culprit.
In agreement with that plea, Larson Klein's article, "Lady Macbeth: 'Infirm of purpose,'"
argues that Macbeth's initial motives were always murder. Klein's article shows that the only thing Lady Macbeth is guilty of is trying to "unsex" herself, but her failure to do so demonstrates her "ways which are particularly 'feminine,'" making her more of a victim of loss rather than a villain (Klein, 241). If Lady Macbeth is really the villain that critics claim her to be, then she would have succeeded in her "unsex[ing]." However, she never acts on any of the qualities that would make her into a man; instead, she is "never able to separate herself completely from womankind— unlike her husband, who ultimately becomes less and worse than a man" (Klein, 241). As the play progresses, Lady Macbeth retreats farther away from the standards of a criminal while Macbeth practically strides towards them. Macbeth shows that he "becomes less and worse than a man" (Klein, 248) when he says, "The firstlings of my heart shall be / The firstlings of my hand / …give to th'edge o' th'sword / [Banquo's] wife, his babes, and all unfortunate souls / That trace him in his line" (IV. i.147-48, 151-53). Macbeth is so determined to fulfill his destiny as king that he is willing to enact genocide. The "horrible imaginings" that Macbeth says are "but fantastical" (I. iii. 138, 39) no longer "unfix [his] hair" nor do they "make [his] seated heart knock at [his] ribs" (I. iii. 135, 36); instead, those images bring him almost the same existential euphoria that Lady Macbeth first receives when she speaks of her "unsexing."
However, Macbeth and Lady Macbeth seem to switch places when it comes to culpability. In agreement to this statement, Klein argues that Lady Macbeth resembles less of a criminal because she "epitomize[s] the sixteenth-century belief that women are passive, [whereas] men active" (Klein, 244). I believe that this statement is true for Lady Macbeth. She does influence her husband and encourage him into murder, but she never takes on the role of the man completely. If she did take on this role, she would have killed Duncan herself as well as Banquo and the other characters that Macbeth executes. But when she has a chance to insert her "keen knife" (I.v.51) into Duncan and murder him herself, she stops and retreats from her "direst cruelty" (I.iv.42): "…Had [Duncan] not resembled / my father as he slept, I had done't" (II. ii.12-13). Some may argue that Lady Macbeth's statement demonstrates her passivity over the whole ordeal but then that just strengthens Klein's argument that she is more feminine and less guilty of criminality. In fact, Klein states that Lady Macbeth's resistance to kill Duncan exemplifies "'charitable love;'" "as she forfeits the power for good which derives from the practice of pity, she is left only with loss and weakness (243). Lady Macbeth actually shows more kindness and pity towards Duncan than she intends to which shows that the remorse that she is so determined to extinguish still remains within her character. A true villain does not
hesitate when they have the opportunity to demonstrate their corruption, but Lady Macbeth limits herself and does not act on her initial intention, which keeps her within the realms of femininity and away from the evilness and accountability that critics like Kahn associate with her.
Furthermore, Lady Macbeth's inability to kill Duncan, even when she has the opportunity to murder him, makes her less at fault but makes Macbeth all the more guilty especially because he takes the time to contemplate the consequences of the murder (I.vii.1-28). Macbeth's 'dagger' speech equates to Lady Macbeth's decisions whether to enact the murder or to abstain. Yet,instead of seeing the error of his ways and retreating at the last moment like Lady Macbeth, Macbeth revels at the thought of Duncan's death and puts forth his actions, therefore, making him the main perpetrator:
Art thou not, fatal vision, sensible
To feeling as to sight? Or art thou but
A dagger of the mind, a false creation,
Proceeding from the heat-oppressèd brain?
I see thee yet…
Thou marshall'st me the way that I was going,
And such an instrument I was to use.
…I see thee still,
And on thy blade and dudgeon gouts of blood,
Which was not so before (II.i.36-40, 42-43, 45-47)
There is this rising desperation within Macbeth's speech, almost as if he is frantically determined to take hold of the dagger and immediately invoke his desire to kill Duncan. And if that is the case, then Klein's argument that Macbeth is the one who "originally…thought of murdering Duncan" becomes strengthened (241-42). According to Klein, his culpability becomes even more evident due to the fact that "the witches wait for no other purpose than to meet him," which "suggests that he has long since opened his mind to demonic temptation" (241). I thoroughly agree with this statement; if Macbeth is truly the "worthy Cawdor" (I. iv. 48) that Banquo pronounces him to be, then the witches would have never shown themselves to him or persuaded him into murder. The "Weird sisters" (II. i. 20) choose Macbeth because he obviously embodies the ambitious, murderous man that the witches tell him he is, and Macbeth's link to the dagger in his mind demonstrates his killer mentality. When Macbeth claims that the dagger is "a dagger of the mind," it concludes that Macbeth has always had the 'dagger', or in other words, murder as one of his intentions; moreover, murder becomes a truer characteristic of his once Macbeth has the opportunity to kill. We see this when he says that the dagger in his mind "marshall'st [him] the way that [he] was going," which indicates that the decision to kill Duncan is a decision that he has already settled with himself even before the opportunity arose. To further prove his accountability, Macbeth not only pre-meditates the murder, but he also contemplates the tool that he will use to enact it. When Macbeth says, "And such an instrument I was to use," he demonstrates that his instrument, his dagger, is a fixed idea that has been present in his mind. Moreover, not only does he imagine his murder weapon, but he also states that he sees the "blade and dudgeon [with] gouts of blood / Which was not so before." His mentality is so completely connected to the standard criteria of a murderer that it is hard to deny that all his plans are not his from the very beginning. So, it is very questionable as to why critics continue to blame his wife for all his problems. Macbeth understands that killing Duncan is a sin; yet, he does not limit himself the way that Lady Macbeth does when she sees Duncan. Lady Macbeth should not be held guilty for the murder of Duncan because her "threats of violence, for all their force and cruelty, are empty fantasies" that she never compels herself to make true (Klein, 244). Instead, "it is Macbeth who converts them to hard reality" (Klein, 244). What also helps show Lady Macbeth's positive qualities in Macbeth is her conscious and subconscious guilt after Duncan's murder.
The fact that Lady Macbeth exhibits more guilt and consciousness demonstrates that her mind never truly influences her actions, therefore, showing that she has more morals than Macbeth. Macbeth could have stopped any time after he murders Duncan. He also could have evoked more guilt in himself to make his character seem more penitent over his crimes. But since Macbeth never seems to show any real remorse or stops himself from murdering Banquo, he becomes more of a guilty culprit and less of an innocent character. Lady Macbeth, on the other hand, not only tries to stop Macbeth from murdering Banquo, but she also becomes burdened with guilt and remorse:
Nought's had, all's spent,
Where our desire is got without content:
'Tis safer to be that which we destroy
Than by destruction dwell in doubtful joy (III.ii.4-7).
Critics keep placing all the blame on Lady Macbeth, but her soliloquy shows that she is not the same woman that she is at the very beginning. Before Duncan's murder, she is dedicated to Macbeth's cause and actions. She is wholly behind him and even states, "…we'll not fail" (I. vii.61), encouraging Macbeth that they will not only succeed in their agenda, but also that Lady Macbeth will stand behind his decisions no matter the costs. However, we can see that Lady Macbeth second-guesses her actions when she states, "Nought's had, all's spent, / Where our desire is got without content." The fact that she is not happy with her decision to kill Duncan signifies that she is remorseful of her actions. If she still felt the same "cruelty" she feels before the murder, she would have maintained the same unyielding attitude. However, she recognizes that killing Duncan was not the best decision, and as Kevin Curran states in his article, "Feeling Criminal in Macbeth," "we do not witness criminal malice evolving in any conventional sense from [Lady Macbeth's] mind. Lady Macbeth's 'mortal thoughts' are thoughts, indeed, but far from being [impractical]" (397). Meaning, that she may have had criminal-like thoughts, but she never truly becomes a criminal. Unlike Macbeth, she does not completely act; her "'mortal thoughts' [are] not expressed in dichotomous or even sequential terms, [and she does not pass through the] threshold into the territory of bodily action" (Curran, 397). Even though her mind, at first, is bent on murder, she does not allow her body to enforce or enact her thoughts. Her mind and her body are two completely separate things, and because she maintains that separation, she never becomes the murderer that critics like Kahn state that she is. We cannot say the same for Macbeth; his actions to kill and to continue to kill signifies that "he is already 'bloody, bold, and resolute' and will… sustain this attitude" (Kahn, 186). Macbeth completely steps over the "threshold" that Lady Macbeth does not surrender to, and she is so resistant to continue on with her 'evil' ways that she tries to stop Macbeth from murdering Banquo. When Macbeth hints to his wife that she should keep a close watch on Banquo (III. ii. 30-31), she states, "You must leave this" (III. ii. 35), which demonstrates her testimony against Macbeth's decisions. Critics cannot continue to say that she influences all of Macbeth's actions. This is completely untrue, especially when it comes to Banquo's murder. "It is Macbeth who invites Banquo [to the feast], not Lady Macbeth" (Klein, 246).
Moreover, she becomes less of an accomplice to Macbeth's murders especially because he never informs her of his plans for Banquo. When Lady Macbeth asks, "What's to be done?" (III.ii.44), Macbeth does not allow her the same confidence he grants with Duncan's murder. Instead, Macbeth tells her to "Be innocent of the knowledge, dearest chuck, / Till thou applaud the deed" (III.ii.45-46). With Duncan, it seemed like Lady Macbeth was the driving force, but now Macbeth is his own leader. Lady Macbeth receives an awful amount of flak for crimes that she is clearly innocent of partaking. Then, one may ask, why do critics and readers keep seeing her in such a biased manner? It could be because so many critics have buried the good in her character that we only are presented with the misogynistic depiction of Lady Macbeth as the unruly and the wicked. This type of critical resistance and stereotyping not only lies with Lady Macbeth, but the same critiques are often casted and associated with Gertrude in Hamlet.
The general misogynistic accusations that critics, like Janet Adelman, claim Gertrude is guilty of are incest and adultery. However, the fault that critics claim she is most guilty of, and which causes the most problems for Hamlet, is her hasty marriage. According to Robert Smith's article, "Hamlet and Gertrude, or the Conscience of the Queen," there is no evidence that can dispute against Gertrude's hasty marriage to Claudius (R.M. Smith, 84). We can see that Smith's statement is completely valid because Hamlet tells us, "A little month or ere those shoes were old" (I, ii, 147) and that "the funeral bak'd meats / Did coldly furnish forth the marriage tables" (I.ii.180-181). Because Gertrude's actions are so unusual, it is not hard to understand why her marriage becomes an issue for Hamlet. Gertrude definitely does not waste any time after Old Hamlet's death. It is somewhat perturbing that any mother would remarry so quickly after the first deceased. For Hamlet, his mother's remarriage is an abomination, and according to Robert Smith, "Shakespeare makes it clear that before the Ghost has appeared to Hamlet, the imagination of the prince, overwhelmed with grief and melancholy, is" filled with hate and cruel resentment "whenever he thinks of the 'wicked speed' in marriage of Gertrude and Claudius" (85). This statement immediately becomes irrefutable when Hamlet says, "She married – O most wicked speed! To post / With such dexterity to incestuous sheets / … But break, my heart, for I must hold my tongue" (I. ii. 156-57, 59). Hamlet is adamantly against his mother, and because she no longer possesses Hamlet's image of a loving mother and wife, he does not think that Gertrude deserves respect; instead, Gertrude becomes "an unweeded garden" (I. ii. 135) that distorts his ideas of womanly morals. "Nowhere, it may be said, in the whole realm of dramatic literature has a sexual union ever been so loathsomely described as by Hamlet in his passages of vituperation in the closet scene (III, iv, 91-94; 182-4). Of Hamlet's many disgusts and disillusionments, this marriage of his mother with Claudius is the greatest" (R.M. Smith 85).
Furthermore, according to Janet Adelman's article, "Man and Wife Is One Flesh: Hamlet and the Confrontation with the Maternal Body," Gertrude's marriage to Claudius and her failure to be a good mother to Hamlet are the main reasons for Hamlet's inaction. Adelman states that, "the initiating cause of [Hamlet's] collapse is Hamlet's mother: her failure to serve her son as the repository of his father's ideal image by mourning him appropriately is the symptom of her deeper failure…" (13). Hamlet gets pushed over the edge due to the fact that Gertrude does not do her job as his mother by upholding the memory of Old Hamlet and has trouble differentiating between a "Hyperion to a satyr" (I.ii.140). Adelman argues that her failing memory fuels Hamlet's decision to avenge his father and puts all the responsibility onto him, therefore, making Hamlet spiteful of Gertrude (13). Looking at Hamlet's interpretation of his parents' relationship, it is easy to understand why he is so repulsed by his mother. Hamlet says that his mother would "hang on" (I. ii. 143) his father with a voracious "appetite" (I. ii. 144), and if his idea is somewhat true, then Gertrude's faithfulness to Old Hamlet is definitely questionable. Why such a woman would be so quick to marry another man, especially the brother of her deceased husband, casts doubt on her faithfulness. However, Hamlet's interpretation is quite biased and leaves out the complete history behind Old Hamlet's and Gertrude's marriage. But this does not excuse the weight of her controversial decision to marry Claudius nor does it assuage Hamlet's right to have such resentment towards his mother. There is a large focus on Gertrude's marriage throughout Hamlet. This does make Adelman's argument more valid, especially because the more time that is spent on Gertrude, the less time is being devoted to Hamlet's act to kill. In fact, all the time that becomes dedicated to Gertrude's faults "disrupts the identification from which [Hamlet] could accomplish his vengeance," therefore, if people want to blame anyone for Hamlet's inaction, they should place it on Gertrude (Adelman, 13).
In addition to Hamlet's inaction, Adelman argues that Gertrude is the most accountable for Old Hamlet's murder because of her lack of distinction between Claudius and Old Hamlet. According to Adelman, "The fathers Hamlet tries so strenuously to keep separated keep threatening to collapse into one another; even when he wants to kill [Claudius] to avenge [Old Hamlet], he cannot quite tell them apart" (21). If Gertrude did not marry Claudius or at least had a better differentiation between Old Hamlet and the King, Hamlet would have concentrated more on his father's revenge instead of trying to change Gertrude's perception of the men. Moreover, Hamlet becomes so obsessed with changing Gertrude's perception of the two men that Adelman believes that there is a "transfer of agency from male to female," and that "malevolent and blame tend to pass from Claudius to Gertrude in a deep fantasy of the play" (Adelman, 25). Adelman points out that 'the closet scene' best defines this transfer when Hamlet says, "A bloody deed. Almost as bad, good mother, / As kill a king and marry with his brother" (III. iv. 28-29). She suggests that Gertrude "becomes the active murderer" because Hamlet begins by accusing Claudius when he states, "as kill a king," but the fact that Hamlet ends his lines "with 'brother' rather than 'queen' or 'wife,' the killing [then] attaches itself irrevocably to Gertrude" (Adelman, 25).
It is quite curious that Hamlet finds so many faults within his mother, and because so much of his motivation is spent on Gertrude, it makes it easy for critics to believe that Gertrude must have been an accomplice to Old Hamlet's murder. However, I do not think that Adelman's claim is wholly valid. True, Hamlet's focus on his mother's faults makes him digress from his 'main mission,' but once he unleashes the animosity he has for his mother in the 'closet scene,' the shift in his manner and action suggests Adelman's argument to be only half right. The 'closet scene' is the climax in Hamlet, and after that scene, Hamlet does seem to act with more purpose and motivation. But his sudden spurt of intent deals more with the fact that the burden that he carries, pertaining to his mother's marriage, is finally lifted. He calls her a "wretched, rash, intruding fool" (III. iv. 31) and forces her to look at the "counterfeit presentment of two brothers" (III. iv. 54), he becomes slightly more sane and aware of his actions. Hamlet's slander is aimed more towards the marriage rather than Gertrude's place in the murder. But, referring back to Adelman's evidence of Hamlet's speech "as kill a king," could it be that Hamlet believes that Gertrude is involved in Old Hamlet's murder? Honestly, I think not. If anything, Hamlet believes that Gertrude's act of marriage is equally sinful and harmful to the father as the actual act of murder; however, the severity of the two degrees are vast. Remarrying after one's death only "two months dead" is truly quite appalling, but it in no way holds itself up to the same level as murder.
There are many things that Gertrude is guilty of, but the one thing that she is innocent of is murder. There is no proof that Gertrude killed Old Hamlet or had anything to do with his murder, and to suggest that accusation is overstressing the reality of what is actually occurring in the play. Adelman tries to hold over Gertrude that the Ghost "neither accuses her of nor exonerates her from the murder," which leaves for interpretation, that Gertrude may have been a part of Old Hamlet's murder (Adelman, 15). That is weak evidence to present. True, the Ghost never truly exempts Gertrude of murder, but then again, neither the Ghost nor Hamlet knows if she is responsible from the very beginning. Furthermore, Gertrude's reaction to the Player Queen in Hamlet's Mouse Trap proves that she is innocent. When the Player Queen says, "A second time I kill my husband dead / When second husband kisses me in bed" (III, ii, 196-7), Gertrude's statement, "The lady doth protest too much, methinks" (III. ii. 233) pertains more to her embarrassment of "the obvious parallel of the Player Queen to her own situation" (R.M. Smith, 89). However, some critics believe that Gertrude is being cunning and trying to downplay her reaction. But the Player Queen's speech as well as Hamlet's interpretation of the parents' marriage both over exaggerates how much Gertrude loves Old Hamlet. As discussed before, Hamlet not only gives the audience just the good aspects of the marriage, but he also tries to compare it to a type of god-like relationship. So, if Gertrude is trying to downplay anything, she is trying more to alleviate the hyperbolic image that Hamlet has created in his mind than the idea of murder. No marriage is perfect, but that does not mean that Gertrude did not love Old Hamlet nor does that mean that she loved him as if he were an idol.
To add more to Gertrude's unthreatening nature, Claudius' obviously guilty reaction to the Player King as well as the Ghost's interruption of Hamlet's rage against his mother shows that Gertrude is only an adulteress and not a murderer. When the play starts to divulge into the poison scene, the King becomes overwhelmed with guilt and rises, Gertrude, however, "is surprised" (Smith, 89). "Her exclamation, 'How fares my lord?' shows that she had not comprehended Hamlet's drift, or caught the significance of the murder of the Player King by poison. She is not, therefore, as some critics have assumed, an accessory to the murder, nor does she know anything about it" (Smith, 89). However, Adelman argues that Hamlet's close attention to Gertrude rather than focusing his attention on his murderous uncle proves that Hamlet himself may have been suspicious of Gertrude's intentions. As discussed before, Adelman uses 'the closet scene' to accuse Gertrude of murder and show how there is a "shift of agency;" however, during Hamlet's rampage against his mother, the Ghost stops Hamlet from making such drastic accusations:
Do not forget. This visitation
Is but to whet thy almost blunted purpose.
But look, amazement on thy mother sits.
O, step between her and her fighting soul.
Conceit in weakest bodies strongest works.
Speak to her, Hamlet (III. iv. 110-15).
The Ghost steps between Hamlet's suspicions and, practically, tells him that Gertrude is innocent. If Hamlet's "blunted purpose" is to avenge the father and if the Ghost stops Hamlet from accusing Gertrude of adultery as well as murder, then that shows that the Ghost does not believe that she is linked to his death. "The Ghost [makes] no such accusation, but strictly enjoin[s] [Hamlet] in carrying out his task not to contrive aught against her" (R.M. Smith, 88). The Ghost tries to guide Hamlet back to killing Claudius, and if ranting against the mother digresses from the brunt of the murder, then that must mean that Gertrude is innocent. Also, the Ghost's punishment for Gertrude is nowhere near as severe as Claudius's punishment. "Claudius's crime of murder [is] to be revenged by death;" whereas, "Gertrude's sin of adultery [is] to be expiated by the pangs of conscience," therefore, if Gertrude is truly guilty of murder, then "why should the Ghost have been so considerate of his Queen throughout the play, if she had taken part in his death?" (R.M. Smith, 88).
Like Adelman, many critics accuse Gertrude of not upholding her motherly duties; however, their interpretation is invalid. Critics believe that Gertrude teeters between her love for Hamlet and her love for Claudius; however, Adelman suggests that she does not waver at all. In fact, according to Adelman as well as Baudin, an opposing critic in Robert Smith's article, Gertrude's devotion is always dedicated to Claudius. Baudin and Adelman believe that Gertrude's confession of Hamlet's madness to Claudius is not exemplary of her devotion to Hamlet because "she may of course believe that [Hamlet] is mad and think that she is reporting accurately to [Claudius]" (Adelman, 15). Baudin "further asserts that the speech of the Queen, 'What shall I do?' (III, ii, 180), is not addressed to Hamlet, since 'one does not ask advice of the insane'" (R.M. Smith, 90). However, Robert Smith, as well as I, argues against that statement because "the Queen's question is assuredly addressed to Hamlet, for he immediately responds with a long speech of specific advice, which, so far as we know, she followed" (R.M. Smith, 90):
Queen. What shall I do?

Ham. Not this, by no means, that I bade you do:
Let the bloat king tempt you again to bed . . . (III. iv.185)
Gertrude keeps her word to Hamlet and proves herself an adequate mother. Critics may continue to argue that she still is a bad mother because she still keeps her word with Claudius, but that statement is unfair, given the state of her situation. In all honesty, no woman or mother can deny that Hamlet is of unsound mind. He not only comes into her room unfurling atrocious accusations to her, but he aimlessly kills Polonius and drags him out of her room thereafter. Truly, that is a disturbing image for any person to forget. Also, many readers and critics often forget that Gertrude is not just a mother. She is also a wife, a Queen and, most of all, a woman. As a woman, she must maintain all of those roles completely. She may falter when it comes to being the perfect mother and wife, but then we have to consider her duties as a queen. She has a responsibility to her country, and marrying Claudius is perhaps one of those obligations. Gertrude is a good mother despite critics' efforts to say otherwise.
Not only does Gertrude show her motherly devotion to Hamlet after 'the closet scene,' but she also shows her love when she drinks from the poisonous cup. Adelman suggests that this is, yet another case that shows Gertrude's devotion to Claudius and not Hamlet. Adelman states that the lack of clarity in her final moments constitutes her loyalty to Claudius. Gertrude says, "O my dear Hamlet! / The drink, the drink! I am poison'd" (V.ii. 318-19). Gertrude "knows that Claudius has prepared the cup for Hamlet" (Adelman, 16); therefore, she must have known that Claudius intended to kill Hamlet. And according to Adelman, if her allegiance really lay with Hamlet, she would have said that Claudius poisoned the cup (Adelman, 16). However, this argument is yet another weak factor against Gertrude. Critics need to understand that 1) Gertrude has a responsibility to uphold as a wife, and the fact that she still maintains that loyalty even at the point of death makes her all the more a respectable character, and 2) she shows that she cares more about Hamlet when she goes against Claudius' wishes to "not drink" (V.ii. 296). She clearly disobeys Claudius, and she continues to show her motherly love towards Hamlet when she drinks the wine in support of her son (Montgomery, 112). Even her last moments are all for Hamlet despite what critics believe. True, she does not make a clear exclamation that Claudius has poisoned the cup, but Claudius openly shows that he is the culprit when he drops the pearl into the cup and says, "Hamlet this pearl is thine" (V.ii. 287). Having Gertrude restate the obvious would just be redundant. She could have kept the information about the cup to herself and let the poison overtake her. But her last moments are devoted to warning Hamlet and protecting her son.
It is amazing to think that so many critics believe that Gertrude does not amount to anything in the play and that she is insignificant; however, according to Abigail Montgomery's article, "Enter Queen Gertrude Stage Center: Re-Viewing Gertrude as Full Participant and Active Interpreter in Hamlet," Gertrude's role has been vastly overlooked, and she also argues that Gertrude is a vital character in the play, and without her, the play is incomplete especially when it comes to Ophelia's death (Montgomery, 99). If Hamlet did not have Gertrude as the sole reporter of Ophelia's death, we would never know what happened to Ophelia nor would Ophelia have been able to have a "Christian burial" (V.i.1). According to Montgomery, without Gertrude's commentary in Act 4, Scene 7, the reader as well as the characters in the play would never find out if Ophelia kills herself or if her death is an accident (Montgomery, 108). Gertrude's speech informs everyone that Ophelia "Fell in the weeping brook" (IV.vii. 175) when "Her clothes spread wide, / And mermaid-like awhile they bore her up" (IV.vii. 176-77) until "her garments … / Pull'd the poor wretch from her melodious lay / To muddy death" (IV.vii. 181-83). But if Gertrude is so irrelevant, then that means Ophelia's death serves no purpose to Hamlet. This scene ties Gertrude to Ophelia, and if everything that Gertrude says and does in the play does not matter, then her speech should be considered invaluable. However, it is quite the contrary. This speech enables Ophelia a lasting impression; one that does not include her madness. Also, Gertrude's adamant "insistence that Ophelia did not deliberately jump but "Fell in the weeping brook" allows Ophelia's funeral to be held in a "Christian burial." Montgomery claims that Gertrude uses her authority as Queen to change the initial assumptions of Ophelia's death from suicide into an accident (Montgomery, 110). Even though "Her death was doubtful" (V.i.225), Gertrude's "great command o'erways the order" (V.i.226) and allows Ophelia's body the proper burial. Gertrude's agency in the play cannot be denied (Montgomery, 110). Shakespeare gives her the responsibility of reporting Ophelia's death for a reason. If Gertrude was not as significant as most critics believe, then Shakespeare would have cast a servant or someone equivalent to Gertrude's bad reputation as the informer. However, Gertrude is the one that "brings news of Ophelia's death to court," and her interpretations not only overrules any of "the suspicious circumstances around [Ophelia's] death," but they also "make certain that [Gertrude's] interpretation results in the public, social, religious action of Ophelia's Christian funeral" (Montgomery, 110).
Both Gertrude and Lady Macbeth are victims of misogynistic casting, and undermining the roles of these women condones the choices of writers and directors to portray women as nothing more than objects. According to Coppélia Kahn's article, "'The Shadow of the Male': Masculine Identity in the History Plays," Shakespeare's world is riddled with masculinity; so much that the women that make up the plays become "relatively insignificant" (47). As we have witnessed with both Macbeth and Hamlet, the tragedies focus so much on the ambitions of the male characters that we only see the immediate negative standards of Gertrude and Lady Macbeth. As a first time reader, one will most likely see Lady Macbeth as a villain and visualize Gertrude as an adulteress mother. However, as demonstrated with this paper, taking the time to delve into the roles of these female characters presents the agency and positive functions behind them. Yet, "the women in tragedies seem to split into two basic types: victims or monsters, 'good' or 'evil'" (Berggen, 18). Instead of showing "a cultural observation or social criticism" on these women, "the central element in Shakespeare's treatment of women is always their sex" (Berggen, 18). These ideas of women need to cease because they are being incorporated and allowed within modern society. According to Rooks, having Lady Macbeth portrayed as an overtly sexual woman with evil ambitions makes its way into "the so-called 'post-feminist' epoch currently inhabited by Western society" (152). This also applies to Gertrude. Having these types of representations in films such as Geoffrey Wright's Macbeth and Olivier's Hamlet allows "the authority of feminist discourse" to "significantly diminish" (Rooks, 152). In fact, "the ubiquity of such representations is alarming and reveals the poignancy of a contemporary struggle to understand and subvert persistent cultural practices and beliefs that condone to sanction the domination, exploitation, and oppression of women more generally" (Rooks, 152).
As discussed in this paper, there are many layers to these so-called 'evil women.' They have more positive qualities and value than meets the eye; yet, this image is constantly being obscured by the fictitious, stereotypical ploys of men. And instead of giving Lady Macbeth more consciousness and individuality in films and adaptations, they emphasize her sexuality and exploit her character's significance. For Gertrude, her only identifier is her label as the adulteress instead of the "a nurturing and loving" mother (Smith, 195). These negative images must cease because they do no justice for the female characters nor do they provide understanding for women overall. The only thing that these negative characteristics do is "'reduce [Lady Macbeth, Gertrude and women] to so many layers of easily removed clothing'" (Rooks, 153).
Lady Macbeth and Gertrude are two female characters that should be pitied. They have been cast with completely superficial and misogynistic values. These values have become so ingrained with their characters that it is hard to look past the agenda that male figures have bestowed upon them. As a result, Gertrude's role in Hamlet and Lady Macbeth's role in Macbeth, as well as their roles in film adaptations, have trapped these women as licentious, sexual, wicked people. This is not only harming for their characters but also to women in general. The majority of critics and readers only have a fixed idea of these women, and it is not completely emblematic to their actual interpretations in the play.
Lady Macbeth suffers greatly from this issue. Once she does her duties for her husband's kingship, she is no longer needed by Macbeth. She has done her job to fulfill his desires, and Macbeth does not even waiver when he says to the Doctor, "She should have died hereafter" (V. v. 17). This moment is truly a devastating thing to say about one's wife, especially since Lady Macbeth is so adamantly behind Macbeth's ambitions from the very beginning. But because she executes his need for her, her death becomes meaningless to him. What Macbeth needed from his wife had already been granted to him. The same travesty occurs with Gertrude. Her love for Hamlet is always looked down upon by critics and readers as nonexistent. For many, Gertrude does not and should not exist in Hamlet. The few lines that she is given are said to have no purpose; however, "Gertrude like her son, provides action and critical reaction that are vital for a full appreciation of Hamlet" (Montgomery, 114). Gertrude deserves to be and needs to be in Hamlet, and "if [she] serves only as a point of connection between Old Hamlet and Claudius," then she might as well not even exist "but in the play she does," and we cannot overlook that fact (Montgomery, 104). Both these women truly change at the end of the plays and evolve from their initial characterizations; this paper demonstrates that critics have only been seeing the surfaces of their characters—the fallacies—and have yet to uncover their true identities and the significant aspects they possess that enable us to admire the beauty and wonders of these remarkable tragedies.
---