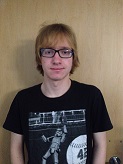 Sam Sweetnam is a sophomore majoring in Mechanical Engineering.  He also plays trumpet in the USC Trojan Marching Band and writes for Halftime Magazine.
---

People of Ancient and Classical Greece possessed a perplexing fascination with monsters as displayed prominently in literature and epic poetry. Monstrous creatures such as the many-headed Scylla, the whirlpool Charybdis, and the brutish Cyclops Polyphemus populate the Odyssey. The Odyssey contains an almost alarming propensity of monsters, but why do they exist? A simple answer would be that they provide a clear, unmistakably evil force with which heroes such as Odysseus must reckon, but this cannot be the only possible explanation for why they feature so prominently throughout mythology. Furthermore, what defines a monster in Greek text? The classic concept of a monster is a hideous, inhuman creature serving only the purpose to be defeated by a hero, but might monsters be defined by more than just appearance? As stories and texts of Greece evolved, their monsters developed into something new as well. Traditional monsters such as Gorgons may not be present in texts such as Euripides' Medea, but did a concept so deeply ingrained into the minds of Greek writers and poets ever truly fade? Why do monsters play such a massive role in Greek literature and poetry? In order to understand monsters' significance, monsters themselves must first be understood. They can be categorized into three groups: those which are physically monstrous, those that are monstrous by their actions, and those who are deemed monstrous for threatening the status quo.
"The classic concept of a monster is a hideous, inhuman creature serving only the purpose to be defeated by a hero, but might monsters be defined by more than just appearance?"
The first step towards understanding the significance of monsters requires a working definition of a monster. The simplest depiction of a monster is the traditional inhuman, murderous beast, whose frightening appearance immediately labels it as monstrous. Homer's Odyssey contains several examples of these easily identifiable monsters,  beginning with the Cyclops Polyphemus. This son of Poseidon is an anthropomorphic giant, who "[breaks] away the peak of a great mountain and [lets] it/fly" (The Odyssey, Lattimore, 9.480-481) at the taunting Odysseus. Later in the same text, Odysseus and his men come upon Scylla and Charybdis, a duo possessing another significant trait of monsters: uniqueness. Scylla is first described by Circe as having "six/necks upon her, grown to great length, and upon each neck/[a] horrible head, with teeth in it" (The Odyssey, Lattimore, 12.89-91) and later by Odysseus as capable of "[snatching] six/of [his] companions" (The Odyssey, Lattimore, 12.245-246) simultaneously. Her partner-in-crime, Charybdis, is a massive whirlpool with the ability to suck down ships to where "not even the Earthshaker could rescue [them] out of that evil" (The Odyssey, Lattimore, 12.107).While Cyclopes are an actual race, albeit a savage one, Scylla and Charybdis are each one of a kind. Altogether, these monsters from the Odyssey represent the oldest, and by far the most recognizable classification of monster: those who are monstrous in both appearance and deeds. Scylla and Charybdis are the more obvious monsters, as neither possesses any human qualities; they exist solely as destructive forces that both the characters of the text and the readers reflexively fear, for they lack the familiar human appearance and intelligence and cannot be reasoned with.
Polyphemus, on the other hand, can be considered at least partially human. His human-like appearance and his capacity for speech led Odysseus and his companions to "come to [him] and [be] suppliants/at [his] knees" (The Odyssey, Lattimore, 9.266-267), but he quickly cements his status as a monster by rejecting Odysseus's good tidings and "[reaching] for two of [Odysseus's] companions,/[catching] two together and [slapping] them, like killing puppies," (The Odyssey, Lattimore, 9.287-289). His immediate rejection of the customary xenia reduces his humanity in the eyes of Odysseus and the readers, since refusing to provide hospitality is considered a shameful transgression of simple human courtesy. His anthropomorphism only makes his violent actions and attitude more monstrous.As he shares some physical qualities with these hopeful adventurers, Polyphemus' murdering and eating of the sailors can be considered nothing short of cannibalism, to which Odysseus and his men "cried out aloud and held [their] hands up to Zeus" (The Odyssey, Lattimore, 9.293) in protestation and horror at what they had witnessed. Such unpleasant murders are characteristic of monsters in mythology, and serve to further dehumanize a creature that, while possessing some human features, intends only malevolence towards the heroes of myth.
Monsters such as Polyphemus possess the distinction of appearing human, at least partially. Though these beasts bridge the gap between the normalcy of humans and horror of monsters, their modus operandi still consists of fearsome, animal brutality, earning them a position in the category of those which are physically monstrous. Other noteworthy members of this category include the Minotaur of Crete, which possessed the strength, ferocity, and head of a bull, and Talos, the massive man of bronze and guardian of Crete. All of these monsters are human in at least some respects, a lone eye, tendency to rust, and literal bull-headedness notwithstanding. The contrast of combining familiar human features with bestial ones frightens for its bizarreness.
"All of these monsters are human in at least some respects, a lone eye, tendency to rust, and literal bull-headedness notwithstanding."
Some characters distinguish themselves as monsters by their actions rather than their fangs, tentacles, and taste for human flesh. These monsters are human, and Medea from Euripides'Medea proves that while humans lack the size, extra limbs, or terrifying visage of traditional monsters, they can be just as terrible. Incapacitated by her rage for revenge against her husband Jason, Medea curses her own sons to "perish with [their] father!" (Medea, Podlecki, 113), hating them for their relation to Jason. Though she was indeed wronged, her revengeful plot to "make three people corpses:/father, daughter, and [her] husband" (Medea, Podlecki, 374-375) shows an unusual bloodthirstiness. As a woman, she is "a coward/when it comes to self-defense of the sight of a sword;/but when she's been wronged in anything touching sex,/no mind is more homicidal than hers" (Medea, Podlecki, 262-266), which justifies her hatred for anybody involved in the affair.
Medea possesses a remarkable skill with words that would have made rhetoricians such as Socrates proud, but the ends to which she puts this gift to use mark the play as a tragedy. As her scheme comes to fruition, she cries out that "sweet victory over enemies/ will be [hers]!" (Medea, Podlecki, 765-766), rejoicing in the coming bloodshed. She firmly identifies herself as monstrous in intent and action if not in appearance, giving pause even to the Chorus, which reminds her that she will "only end up being the most miserable of women" (Medea, Podlecki, 818) if she kills her sons. She ignores this advice, taking perverse pleasure in hearing the Messenger's account of how her sons unwittingly condemned themselves, and then rushes to kill them herself. Such appalling desires to vicariously experience the death of Jason's wife and to kill her own sons spark instinctive revulsion from readers. Her intense desire for revenge has warped her into a monster, driving her to hideous crimes in the path toward inflicting pain upon Jason. By characterizing Medea as a monster, Euripides exhibits another schematic for monsters in myth; one that has evolved beyond the physically monstrous in the Odyssey to a monster whose capability of inhuman atrocities has made her into a new breed of monstrosity.
"[Medea's] intense desire for revenge has warped her into a monster, driving her to hideous crimes in the path toward inflicting pain upon Jason."
The Odyssey contains more than just the brutal, violently destructive archetype of monster exemplified by Polyphemus, Scylla, and Charybdis. Examples of the second type, monsters by action, are also present in the form of the Sirens. Like Medea, these beguiling beings distinguish themselves as monsters by their actions, rather than possessing great size or strength. In their case, they "[sing] in sweet utterance" (The Odyssey, Lattimore, 12.192) to passing ships, attempting to lure sailors to their deaths.They take the appearance of beautiful women, making themselves that much more attractive to men, while also luring them into a false sense of security. Women were not supposed to be threatening or devious in the time period of the Odyssey, so the fact that "the beach before [them] is piled with boneheaps/of men now rotted away, and the skins shrivel upon them" (The Odyssey, Lattimore, 12.45-46) would obviously be shocking to the male-centric Greek society.These female-like monsters are monsters of action, and the fact that they take the familiar form of human women makes their deadly actions that much more frightening. 
Thankfully, Odysseus has dealt with his share of femme fatales, so he takes precautions to prevent temptation. Aman who "approaches [the Sirens], and listens to the Sirens/singing, has no prospect of coming home and delighting/his wife and little children" (The Odyssey, Lattimore, 12.41-43), so Odysseus's men plug their ears and lash Odysseus to a mast so he may hear the song without risk, becoming the first man to hear their song and not die. The Sirens may lack the immense physical power of Polyphemus or Charybdis's ability to drown ships, but their deviousness and magically-alluring song allows them to accumulate a terrifying body count and mark themselves as possibly the most dangerous monsters that Odysseus faces during his travels.
Though widespread, these categories of monsters possess one unifying quality: they exist as formidable adversaries for the great Greek heroes. The supernatural strength and magnified powers of the physically monstrous class serve to make such monsters ideal opponents for a roving hero. Objectively speaking, a human, even one born of the gods or otherwise possessed with great strength, seems unlikely to defeat a monster who is ten times the size. Despite their disadvantage in size, strength, or ability to breathe fire, the hero always defies expectations by slaying their greater adversary in combat. In a well-known example, the hero Theseus slays the Minotaur of Crete alone, despite the latter's ferocity and strength. 
"The supernatural strength and magnified powers of the physically monstrous class serve to make such monsters ideal opponents for a roving hero. "
The classic Greek hero possesses great, sometimes godlike martial skill, but despite this legendary ability, they are often outmatched by a superior opponent as in the case of Odysseus versus Polyphemus. At the sight of his companions being mercilessly slaughtered and eaten, Odysseus understandably wishes to "draw from beside [his] thigh the sharp sword,/and stab [Polyphemus] in the chest" (The Odyssey, Lattimore, 9.300-301), but knows that he could not defeat the monster, nor remove the boulder serving as a door. Though hopelessly outclassed in size and strength by the massive Polyphemus, Odysseus outsmarts the monster by referring to himself as "Nobody" when the Cyclops asks for his name, resulting in the Cyclops yelling "Nobody is killing me by force or treachery" (The Odyssey, Lattimore, 9.408) when Odysseus stabs him through the eye. Taking their comrade's cries as a joke, the other Cyclopes leave Polyphemus blinded and blundering about in search of his tormentors. Having proved his physical skill in the past, Odysseus now proves his intelligence and wit by outsmarting Polyphemus.
In this manner, monsters pose a perfect opportunity for a hero to display their cunning and please the audience looking for a hero to praise.The Sphinx which plagued the city of Thebes posed a riddle to travelers, promising death if they could not answer, but also possessed the strength and viciousness of a lion to back up her challenge. When crafty Oedipus answered her riddle, she flung herself off a cliff in despair.The qualities of intelligence and wits are widely idealized attributes of Greek heroes, and both Odysseus and Oedipus are lauded for their cunning.This praise stems from their use of this cunning to defeat feared opponents, Polyphemus and the Sphinx respectively.
Monsters come in many unique shapes and forms, from the gigantic Cyclopes to the malicious Medea. By providing a definite opponent for heroes, monsters give the audience a reason to root for the protagonist. Monsters, along with gods, bring the excitement of the supernatural to already-dramatic stories.And when the physical deities have left the forefront of the texts monsters remain, having evolved beyond simple brutes like Cyclopes. They are cunning, crafty, and sometimes even human. Whether possessed of Medea's malevolent intent or the Sirens' deadly beauty, monsters transcend the physical danger to provide intellectual challenges for heroes. An omnipresent force throughout myth and epic, monsters challenge heroes with tests of strength and cunning, providing them with golden opportunities to set their mark upon history as the shrewd Odysseus who defeated the Cyclops Polyphemus, braved Scylla and Charybdis, and listened to the song of the Sirens and lived. Like the monstrous Hydra, the many-faceted idea of monsters will never be killed off; heads may be removed, but the timeless antagonists of Greek literature will simply spring back to terrorize yet again.
---