___________________________________________________________________________________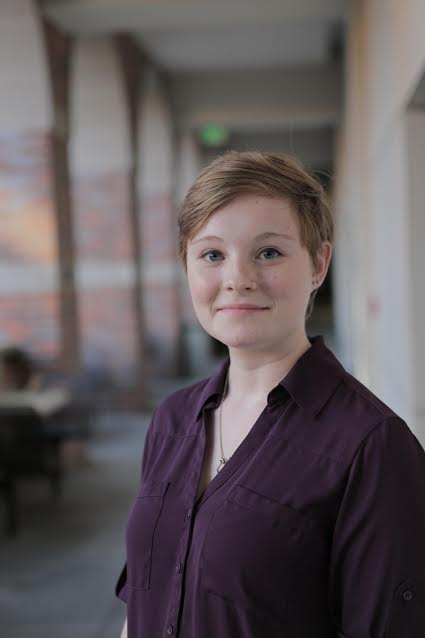 Sydney Fishman graduated in May 2016 with a B.S. in Environmental Studies and minors in Geohazards and International Policy & Management. She is currently a first-year student at the Duke Nicholas School of the Environment, where she is pursuing a Master of Environmental Management degree.
_____________________________________________________________________________________________
Often when video game players, or gamers, are depicted in media or discussed by parents, the image of an overweight, pimply-faced, sun-fearing teenager takes prominence. Yet video games are quickly gaining social acceptability. They are played by a wide range of audiences, and are at the cutting edge of technology. 59% of Americans play video games on a wide range of gaming platforms, including computers, consoles, and even smartphones. The average gamer is 31 years old and the gaming audience is split almost evenly between genders—52% of gamers are men while 48% are women. The video game industry generated over $21.5 billion in revenue in 2014 from sales of the games themselves, plus the requisite hardware and accessories (Entertainment Software Association, 2014). While some games receive a lot of hype but do not meet expectations and fail to capture a wide fan base or community, others stand the test of time. With over 595,000 players worldwide, the Counter-Strike (CS) series certainly fits the bill of a game with staying power (Steamcharts, 2015). Though the in-game objectives have remained basically the same over the series' sixteen year history, the most recent iteration of the game—Counter-Strike: Global Offensive (CS:GO)—has expanded the dimensions of the game by introducing a virtual marketplace of in-game items. With these items, which have prices corresponding to real-world monetary value, CS:GO created a complex in-game economy and, relatedly, opened the ability for conspicuous consumption, distinction, and identity-building within the game through the purchase and display of these items. Virtual marketplaces are not unique to Counter-Strike: Global Offensive, but this game provides a means of understanding why and how people use virtual communities to craft identities and facilitate distinction within those communities, and how the consumption and display of virtual objects plays into this process.
The Counter-Strike game series, produced by Valve, launched in August 1999 and is now in its third major iteration. This most recent version, Counter-Strike: Global Offensive, was released in August 2012 and has attracted a vibrant, active online community from around the world (Valve Corporation, 2015). One can expect to find an average of 249,000 players online at any given time (Steamcharts, 2015). To understand the CS:GO community, one must first gain a basic understanding of the gameplay. All iterations of CS revolve around one main type of competitive, team-based gaming. Two opposing teams, each comprised of five players, are placed in a computer server loaded with a preset "map"—the setting in which the competition will take place. Visually the maps appear slightly different depending on which is selected—they include castles, towns, and nuclear power plants—but fundamentally they have the same components and layouts. On each map, teams must take on the roles of "terrorists" and "counter- terrorists" to complete mission objectives. The terrorist team must attempt to plant a bomb in one of two sites on the map, while the counter-terrorist team must stop them from planting the bomb or diffuse it before it explodes. As CS:GO falls into the game category of first-person shooter, players must carry and fire weapons at enemies and can select from thirty-five weapons to use including the AK-47 rifle or Desert Eagle handgun. A game lasts for a total of thirty rounds, where each round is its own entity (i.e. players who died in the previous round re-spawn). The first team to win sixteen rounds (either by completing the mission objective or killing the entire enemy team) wins the game. Players can form teams with friends, or can be placed on random teams with other players from the community of similar skill level (known as "rank" in the game). Playing CS:GO requires the basic skills of being able to aim one's gun and fire it accurately, but for a player to be decent s/he must also be aware of many strategic nuances, including which areas of the maps are best to play, which weapons are most useful in different situations, and how to interact effectively with teammates (Valve Corporation, 2012). Players range widely in skill level, from new players just starting out (newbies or "newbs") to professional players competing in international tournaments.
This competitive gameplay is tried and true, and is the heart of the Counter-Strike experience. But, as mentioned previously, CS:GO is unique in the CS series for its introduction of virtual items and an in-game marketplace. The main category of items sold on this marketplace is "skins," which are works of art and graphic design that change the appearance of one's weapons. Some skins are created by artists at Valve, while others are designed by members of the community; players can upload their own designs and other users vote on which skins should be incorporated into the game. One can acquire skins in a number of ways: through random drops that come while playing the game, by trading skins with other players, by betting on professional CS:GO matches, or by spending money in the marketplace (Figure 1). The cost (in real-world dollars) of skins varies drastically based on a number of factors, including rarity and newness and can range from $0.03 for a common or old skin to $1000 for the most coveted (Figures 2-5). Despite the potential enormous cost of some skins, they provide absolutely no competitive advantage in the game—skins do not change the performance of weapons or maker them easier to use; they merely alter the appearances of the guns (Valve Corporation 2012). Because skins provide no tactical or strategic benefit to the player, they only act to convey information about the user. By connoting status, experience, or other positive traits, skins allow players to distinguish themselves in the game.
Thorstein Veblen, a nineteenth century economist and sociologist, provides a framework that allows further exploration of skins in Counter-Strike. While the notion of digital economies and computerized trading was far beyond Veblen's realm of thought, his ideas are applicable here. Veblen, writing in 1899, was concerned with the phenomenon of urbanization and the movement of people out of rural areas. In their new city homes, people were much more anonymous, and could not rely on their reputation amongst their neighbors to distinguish themselves (Veblen, 1899, 197). In the same vein, the movement of social interactions to the online world has made people much more anonymous. CS:GO players, like in most other video games, never need to reveal their faces, and communicate in-game over a microphone or by typing in a chat box. Unlike other forms of digital media, such as Facebook, users do not reveal their names or set their profile pictures as images of themselves, but use an image of their choosing and a screen name. Taylor Livingston, a long-time CS player, is a prime example of this. A 27-year-old junior at the University of Southern California, Taylor has been playing CS since its 1999 release and currently falls in the second-highest rank, or skill group, in CS:GO. Known in-game and throughout this paper by his screen name, "dice," his current profile picture is an image of the USC Trojan to represent his involvement with the USC CS:GO team (Livingston 2015). For dice and other CS players, this anonymity is an equalizer; age, race, and gender (except perhaps when using a microphone to communicate) are obscured—the most common identity-defining characteristics are absent in the world of CS:GO.
As a result, players must find other ways to distinguish themselves in the CS:GO community. Veblen argues that the need to distinguish oneself is a "higher or spiritual need" (196)—it is part of human nature to seek distinction. Even when face-to-face interactions are removed, as they are in online experiences, this intrinsic need remains. This need was met by a process Veblen termed "conspicuous consumption," whereby individuals consume goods with an outward perspective. The display of consumption is targeted at others as much as it is for one's own inward enjoyment (194). In 1899, conspicuous consumption revolved around expensive food, dress, and home furnishings along with the ability to support a wife who had time for leisure activities. This conveyed wealth and social status to anyone familiar with such a household (195). In Counter-Strike: Global Offensive, the display of expensive in-game items provides no skill-related advantages to the player, but can say a lot about him or her to other users. A player's skins are not only visible to their owner, but to other players as well. For instance, when you get killed in a competitive round, the game displays which player killed you and with what weapon, including the skin (Figure 6). Additionally, players can pick up and use the weapons that dead players drop; it says whose gun you are holding, so you know to whom a skin belongs. If such a skin is expensive and highly coveted by the community, players will make a special effort to recover it: "If a person on the other team has an expensive gun and they lose it during a round, the opposing team will try to stay alive and hold onto it for as long as possible so they can keep using it" (Livingston, 2015). Again, such a gun may provide no tactical advantage to whomever picks it up, but its place within the CS:GO community causes it to be protected and admired.
The conspicuous nature of skins in gameplay facilitates the process of distinction for those possessing the right items. For instance, if dice sees another user with an expensive item, he can easily go to that person's profile page and inspect their inventory of weapons. "If someone has nice skins, you're curious about how they acquired them. You can go look at their profile, see how many hours they've played, what other items they have—you can get an idea if they're wealthy and can afford a lot of nice items, or if they got lucky getting just a few nice things" (Livingston, 2015). These assumptions about a person's experience or skill in CS:GO based on inventory alone are not always correct, and this can work to the advantage of less- skilled players; dice notes that "for people who aren't good, [owning skins] elevates their status. Without skins they would have nothing to distinguish themselves. With skins, they still have something to mark themselves as unique even if they aren't that good" (Livingston, 2015). This ambiguity around a player's history only adds curiosity and speculation about the number of positive traits to which their inventory can be attributed—many years of experience, a deep pocketbook, the shrewd ability to make successful trades, or the knowledge and cunning to win big in bets on professional matches can all lead to a user amassing expensive items. Regardless of how the skins were acquired, they function in the game as a means of making their owners stand out in the virtual crowd.
Use of skins in CS:GO functions in another similar manner to the consumption Veblen detailed in 1899, in that the consumed items not only raise the owner's status in the eyes of others, but arouse envy in onlookers. Expensive items ignite envy in those not as fortunate; Veblen deemed this "invidious distinction" for the resentment and ill feelings they can generate (196). While seeing others in CS:GO who own expensive skins may not kindle ill will, dice admits that there is jealousy associated with seeing other players using highly coveted skins. Furthermore, if he sees another user with an expensive skin or, better yet, gets to use their gun during a match, his envy may push him to pursue that skin in a trade or in the marketplace (Livingston, 2015). Overall, the number of rare and expensive skins one owns and uses in-game goes toward building an identity and putting forth an image that other players may look up to or envy. Skins and weapons inventories are easily visible to other players, and are likely the only means others can use to glean information about one's history as a member of the CS:GO community. Veblen's theories about identity-building and distinction within increasingly anonymous social settings, despite being written over 100 years ago, provide a solid foundation for exploring the phenomenon of skins in Counter-Strike and the fervor surrounding them.
However, we must bear in mind that Veblen's ideas are still rooted in a nineteenth- century framework. He was writing about tangible objects of consumption and real-world social interactions, while Counter-Strike and other video games operate in an intangible and far more anonymous world. To understand why the "higher or spiritual need" (Veblen, 1899, 196) to distinguish oneself crosses centuries, we must account for the uniquely twenty-first-century aspects of virtual commodities and communities. Exploring the personal psychology and social dynamics of virtual communities allows for a deeper understanding of how they are different, or ultimately similar, to real-world social groups.
A major question that begs answering is why players want to spend real money on virtual, intangible objects—objects that do not even change the gameplay. CS:GO is not the first or only game to have a virtual marketplace with these types of items, and this phenomenon is not unique to the first-person shooter genre of games. Games including World of Warcraft, a massively multiplayer online role-playing game (MMORPG), and Habbo Hotel, a massively multiplayer virtual hangout game, all incorporate items that can be purchased with real money but do not impart skills or tactical advantages to players. As Lehdonvirta et al. portray in their 2009 study of Habbo Hotel and its users, these items function to present the wider community with some idea about those users' preferences, aesthetics, and identity. Virtual commodities (whether they be skins in CS:GO or decorative items in Habbo Hotel) act in the same social roles as material goods (Lehdonvirta, 2009, 1059). Specifically, they take the place of luxury goods that are valued highly in society because of their artificial scarcity (1063). Just as luxury goods are perceived as more valuable because of their branding and exclusivity—regardless of the actual cost or labor to produce them—virtual objects are artificially scarce. Creating many digital copies of a virtual item is basically free yet in-game items are assigned an arbitrary rarity; the economics of artificial scarcity transfers from the real world to the virtual world. The desire to emulate those with status, wealth, or experience is reflected in the prices these rare goods (virtual or real) fetch (1063). Dice notices these parallels between the desire for real-world and virtual luxuries in his fellow CS:GO users: "Players [buy rare skins] for the same reason that people buy a new pair of Nikes instead of generic tennis shoes. The Nikes and the regular shoes provide basically the same function, just like skins don't change the function of the guns, but the wearer thinks the shoes are cool or special and knows others think they're cool too. So players will invest a lot of time or money trying to acquire the most rare, sought-after skins" (Livingston, 2015). Luxury goods, whether tangible or not, incite covetousness between the status-holding "haves" and less well-off "have-nots," and people are willing to pay the hefty price to acquire goods that can raise their status.
The acquisition of rare items in video games plays a role in helping users find a place in their virtual communities. Virtual communities are equally as viable for facilitating distinction and identity-building as real communities and can provide valuable social experiences to users. "If gaming is your thing," dice explains, "and you like video games more than playing real sports or joining clubs at school, a virtual item in the game you play is worth more to you than a pair of Nikes in the real world" (Livingston, 2015). The social experience and community setting, whether it be in real life or online, justifies and supports a person's desire to acquire seemingly superfluous things; the community dictates and encourages their consumption patterns. Just as one may purchase Air Jordan shoes to associate oneself with basketball, or may purchase dark clothes and dye one's hair black to associate with the Goth community, "virtual consumption behavior is also a way to identify with a subculture" (Lehdonvirta et al., 2009, 1068). We spend money on the things we care about for our own enjoyment and fulfillment, but we also spend money and acquire items that signal to others that we are invested in the community surrounding those objects. The more time and money we invest, the more seriously we are taken by our peers in the community. In CS:GO, owning and using skins signals to other players that one is imbedded in the community and has developed an attachment to it; building up a high-quality inventory speaks to a higher level of personal and emotional investment in the game (Livingston, 2015).
This hearkens back to Veblen's framework, and presents an interesting dichotomy that Veblen also noted when he was writing. People's acts of consumption and display reveal a desire, or even a psychological need, to create separation and distinction from others and to form an identity. The economy thrives on the desire to own the newest, coolest, or best version of an item compounded by the fact advertising insinuates the uniqueness this affords individuals amongst friends or strangers. Yet exclusivity and distinction are balanced with the goal of inclusion in a group (195). In Veblen's time, people desired to be associated with the next-highest social class above their own (187). In CS:GO, players desire a reputation of experience and establishment in the game. If a player cannot achieve such a reputation through skill, he can augment his current status with a better inventory of skins.
This approach is most obvious when considering the converse situation—a player who possesses very few skins. If such a player lacks skills, he or she is assumed to be a total 'newb' who just downloaded the game and has not spent much time in it. On the other hand, if such a player is very good but lacks an inventory comparable with that skill, the player is assumed to be a hacker (someone using cheat codes) playing on a secondary throwaway account (Livingston, 2015). Having skins, regardless of value, suggests some level of commitment and time spent with the game, and can help indemnify a player against accusations of cheating and harming the community. Lehdonvirta et al. (2009) note a similar situation in Habbo Hotel, where users who did not pay €4.17 to belong to a Habbo club, and therefore could not display a membership badge, were seen as less financially committed to the game and more likely to be involved in defrauding or harassing other players (1070). Commodities, whether they be a black wardrobe for Goths or skins in CS:GO, function as a baseline for building one's connection to a subculture and demonstrating respect for peers and community ideals. Once this connection is established, then the process of conspicuous consumption and distinction can begin.
The importance of virtual subcultures and their associated items extends beyond the hours spent in a video game—virtual communities can produce positive benefits in the real world for players. Considering the suburbanization of America and the increasing distances one must commute to meet with friends, Turow and Kavanaugh (2003) observe a social atomization in our society—people are more distanced from others, physically and emotionally, than they have been in past generations (387). Some "technological optimists" think that virtual interactions and virtual communities can address this problem; Turow and Kavanaugh, meanwhile, are skeptical of this point of view, asking if "the way to revitalize communities is to sit alone in our rooms, typing at our networked computers and filling our lives with virtual friends?" (387).
There are many issues, in dice's opinion, with Turow and Kavanaugh's assessment of video game communities and the broader attitude they represent. He explains,"The phrasing of 'virtual friends' is an ignorant thing to say; it sounds like those people don't exist except in the realm of the game. But they're real people, that, when you're done playing, you end up talking with in voice chat. And they're long-lasting friends. I still talk to people I met online fifteen years ago" (Livingston, 2015). Virtual communities not only help gamers make new friends with similar interests, but help them remain connected with friends from the real world: "[Games] are a way to stay in touch with people I used to see in real life, friends from high school who live a few hours away from me now. I can't go visit them, but I can count on them to be at home and online" (Livingston, 2015). Virtual communities can maintain or strengthen existing social relationships, and can connect users to peers they may never have met in real life, yet whose friendship greatly enhances social and personal wellbeing and fulfillment.
Just as video game communities provide similar functions for players as real communities, the virtual objects, such as CS:GO skins, within these communities serve similar social functions to tangible goods in the real world. Consider two of the most common commodities found in social settings—food and drinks. The consumption of these objects is rarely done just for survival or for the lowest cost possible; their use is tied up in group expectations, friendship dynamics, and social rituals (Lehdonvirta, 2009, 1074). Their consumption in this social manner is unnecessary, in the same way that CS:GO skins are unnecessary for winning a game, but this does not mean it is unimportant. Food and drink are central to social gatherings and as Turow and Kavanaugh (2003) point out, these gatherings are increasingly difficult in today's world. If video games and virtual communities can provide a workable platform to recreate these social gatherings, then virtual commodities represent a transfer of importance "from one arena of socially oriented consumption to another" (Lehdonvirta, 2009, 1074). Some friend groups choose to spend money on checking out hip bars or fancy restaurants, while other social groups gather around the items in their favorite video games. This is especially prevalent when new CS:GO weapon skins are released: "The second that new skins come out, there's a huge spike in players. People get excited and stay online playing for a long time hoping to get a rare item. My friends and I all look at the possible items and discuss them. We talk about which skins are coolest and say which ones we want the most" (Livingston, 2015). Virtual commodities—with their ability to bring friends together and spark discussion, as well as the rituals associated with their consumption—share many similarities with tangible commodities. They enhance the social experience of playing a video game and provide another impetus for social interaction on this platform.
Modes of social interaction are always changing. Veblen observed a shift from the social interactions in rural communities to those in industrialized cities in the late 1800s and today we observe social interactions becoming more digitized and anonymous. However, this does not mean they are becoming impersonal or devoid of individual identities. Video games such as Counter-Strike: Global Offensive are not anti-social traps for awkward teenagers, but are instead a
means of social development and self-fulfillment for people of all ages who find them rewarding and exciting. Rather than seeing virtual objects and marketplaces as frivolous self- indulgences or money pits, we can view them as a parallels to, or natural extensions of, important social phenomena associated with tangible material objects. The fact that skins in CS:GO do not affect gameplay yet have become an integral part of the community experience— and the fact that they garner such high prices—speaks to the number of purposes their consumption serves for players. Virtual commodities facilitate identity-building and fulfill the need for distinction, yet they also foster friendships and increase one's sense of belonging to a community.
Works Cited
 Counter-Strike: Global Offensive. Valve Corporation. 2012. Video game. eBay. "CSGO: AWP Dragon Lore – CS:GO AWP (Factory New!)." eBay Inc., 2015. Web. 9 May
2015. <http://www.ebay.com/itm/CSGO-AWP-Dragon-Lore-CS-GO-AWP-Factory- New-/191573136920?pt=LH_DefaultDomain_0&hash=item2c9aa61618>
Entertainment Software Association. "2014 Essential Facts About the Computer and Video Game
Industry." April 2014. Web. <http://www.theesa.com/wp-content/uploads/2014/10/ ESA_EF_2014.pdf>
Lehdonvirta, Vili, Terhi-Anna Wilska, and Mikael Johnson. "Virtual consumerism: case Habbo
Hotel." Information, communication & society 12.7 (2009): 1059-1079. Web. 10 May 2015.
Livingston, Taylor. Personal interview. 9 May 2015.
Steamcharts. "Counter-Strike: Global Offensive." Steamcharts, 2015. Web. 9 May 2015.
<http://steamcharts.com/app/730>
Turow, Joseph, and Andrea L. Kavanaugh. The Wired Homestead: An MIT Press Sourcebook on
the Internet and the Family. Cumberland, RI: MIT Press, 2003. Web. 10 May 2015.
Valve Corporation. "Counter-Strike: Global Offensive." Valve Corporation, 2015. Web. 9 May
2015. < http://store.steampowered.com/app/730/>
Veblen, Thorstein. "Conspicuous Consumption." The Consumer Society Reader. Ed. Juliet B.Schor and Douglas B. Holt. New York: The New Press, 2000. 187-2014. Print.
3kliksphilip. YouTube, 2015. Web. 9 May 2015. <https://www.youtube.com/user/3kliksphilip>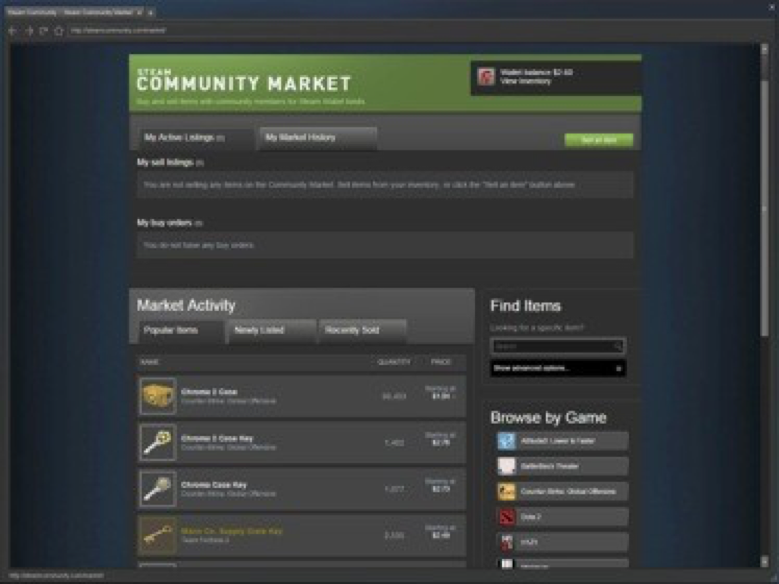 Figure 1. A screenshot of the CS:GO in-game marketplace. (Valve Corporation, 2012)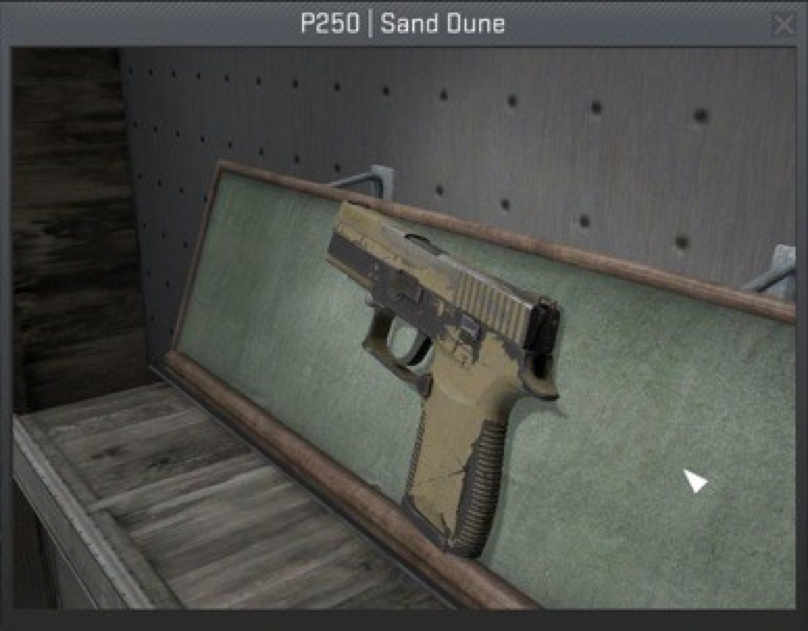 Figure 2. A P250 handgun with the "Sand Dune" skin. This item is worth $0.03. (Valve
Corporation, 2012)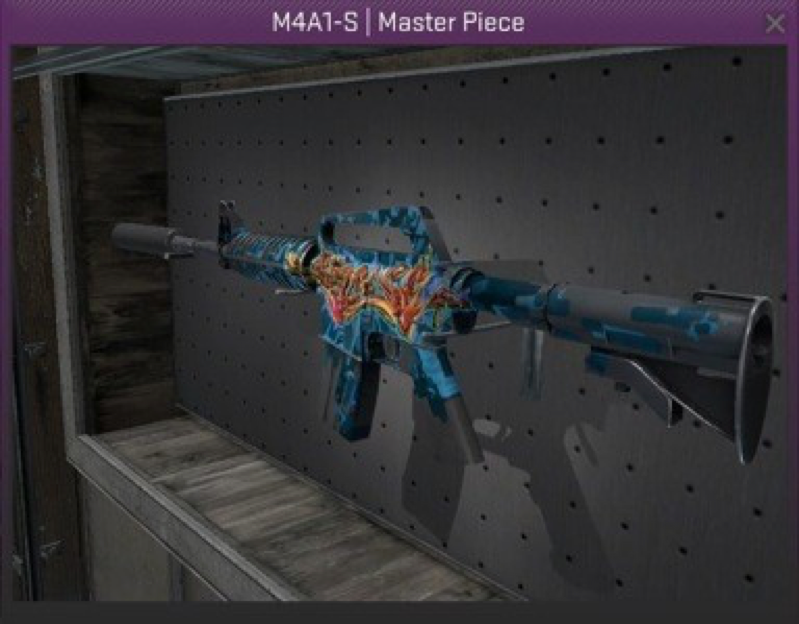 Figure 3. An M4A1-S counter-terrorist rifle with the "Master Piece" skin. This item is worth
$80. (Valve Corporation, 2012)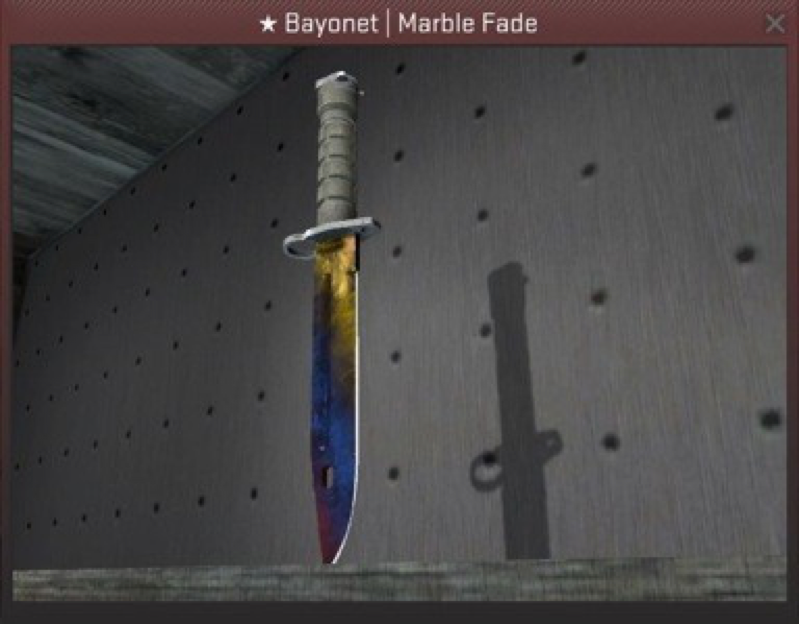 Figure 4. A bayonet knife with the "Marble Fade" skin. This item is worth $400. (Valve
Corporation, 2012).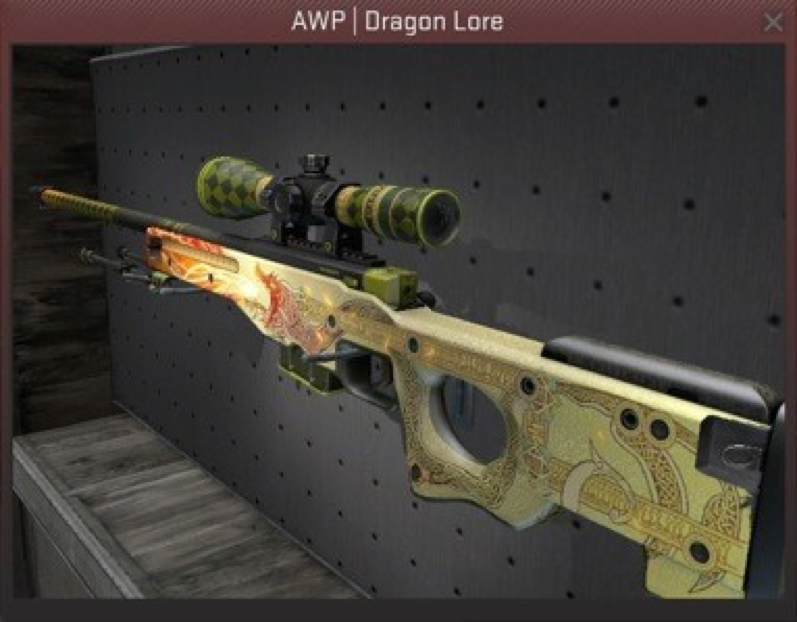 Figure 5. An AWP sniper rifle with the "Dragon Lore" skin. This item is one of the rarest and most sought-after gun in CS:GO, and its price reflects this. Because the CS:GO in-game marketplace takes a 15% cut of the sale of all items, players sell very expensive items on eBay. This AWP was listed for $1000 starting price on eBay and the winning bid was $1200. (eBay, 2015).

Figure 6. A screenshot taken by dice during a CS:GO competitive match. When a player is killed by an enemy, the game displays which user took the fatal shot, and shows which weapon (with skin) was used. In this case, dice was killed by user !xo, who used an AK-47 rifle with a "Cartel" skin worth $2.30. (Valve Corporation, 2012)
---