That "the world's largest black nation does not produce cartoons for its children that reflect any of its own culture" is a problem Adamu Waziri was not willing to take very lightly. So much so that in 2008, this animator based in Abuja, Nigeria decide to take matters into his own hands. And thus the concept of Bino & Fino was born.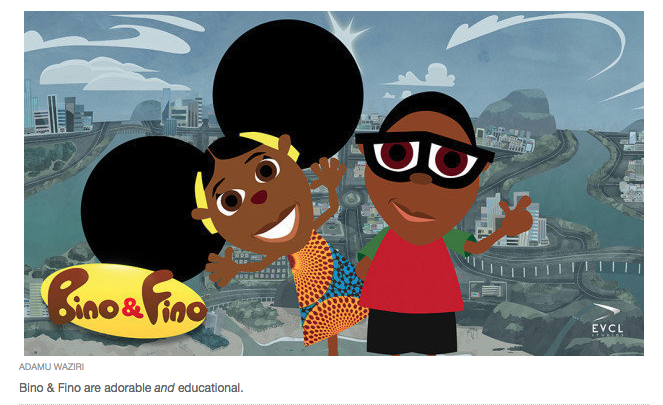 Set in a fictional modern city, Bino & Fino chronicles the lives of this sibling duo as they tackle different adventures each day. The cartoon is serves to educate its audience on a variety of topics while serving is primarily role as a source of entertainment. However, the cartoon's most notable feature is its ability to resonate with so many children of African descent who for so long have lacked (and continue to lack) adequate representation in the media. In fact, the cartoon has become so popular that it is slated to make it way out of African into the Brazilian market via a Brazilian-Portuguese dubbed version.
As Waziri noted in his interview with Huffington post, "across the African diaspora there  few cartoon shows that specifically showcase, teach about and positively, genuinely portray the Africa in any way".  The movement to increase visibility of a positive African narrative becomes especially important when one considers Brazil's complicated racial history where to this day scores of Black Brazilians continue to face discrimination and marginalization in a nation that characterizes itself as "colorblind".
For Waziri, moving into the Brazilian market was a logical first step in what he envisions to be a global movement aimed at educating the masses and granting those in the African diaspora the undue privilege of seeing a little of themselves in mainstream media.
Sources
http://www.huffingtonpost.com/entry/this-nigerian-animator-is-bringing-diversity-to-kids-cartoons-in-brazil_us_56fa8929e4b0a372181af2f7?utm_hp_ref=africa
---