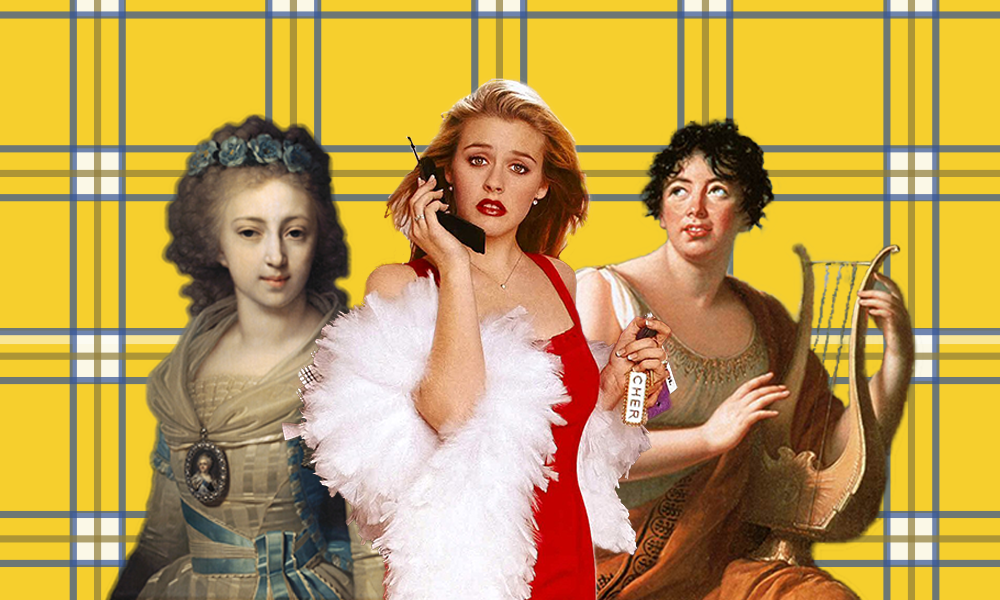 Amy Heckerling's 1995 blockbuster film, Clueless, introduced the 20th-century satirical
hero Cher Horowitz, a beloved protagonist who captured the sensibilities of a generation. Cher is
materialistic, vapid, and blissfully ignorant of the goings-on outside her life, yet audiences love
her and cheer her on because she possesses the film's titular trait. Indeed, it is Cher's
cluelessness that makes her a contemporary heroine of film; her obsession with the flashy and
trivial happenings of her plush lifestyle stands in stark contrast to the brooding, pseudo-
enlightened heroines of romantic literature. Corinne, the protagonist of Madame de Stael's
eponymous novel, embodies the romantic heroine: she possesses creative talent and is
recognized for it, she enjoys a comfortable social position tangent to society, and it is her deep
passion for another that marks her eventual undoing. Princess Mimi, the character for which V.
F. Odoevsky's short story is named, is another layered literary heroine from the same time
period; defined by her unhappiness, disillusionment with those around her, and boredom-turned-
manipulation. These two characters of romantic literature may seem impossible to reconcile with
the heroines of modern literature and film, but Heckerling's Cher is similar to Corinne and Mimi
in as many ways as she is different. Corrine and Princess Mimi establish a continuum of
romantic heroism in three facets of their characters: self-image, participation in society, and
optimism (or lack thereof). Cher Horowitz from Heckerling's Clueless fits into some parts of the
definition of a 'romantic heroine,' in that she does not self-analyze or self-detach and, therefore,
forges her own path with society while simultaneously viewing herself as above it. However, she
is distinct from both Corinne and Mimi in that her optimism colors her view of the world to a
positive effect.
Cher's lack of self-awareness highlights her similarity to both Corinne and Mimi, though
her issues of self vary in their triviality. Princess Mimi is readily judgmental of others but cannot
admit to herself the myriad of contradictions which encapsulate her behavior. In a conversation
with her sister, Maria, she scorns other women while absolving herself of blame. "You, of
course, as a married woman, can afford to scorn the opinion of society, but I… I value myself too
much. I don't want people to start saying the same things about me that they say about your
Baroness," Mimi says to her sister (Odoevsky, 34). It is clear from this quote that Mimi feels no
remorse judging the Baroness for her sociability. Here, Odoevsky characterizes Princess Mimi as
envious yet insecure; when she pauses before stating "I value myself too much," it is evident that
she knows of her hypocrisy but cannot admit it to herself. In contrast, Corinne is typically more
partial to self-pity than judgment of others. Her lack of self-awareness becomes clear when she
attempts to view herself objectively. "Sometimes I examine myself as a stranger might, and I
have pity on myself. I was witty, sincere, kind, generous, and sensitive. Why has all that gone so
badly?" (Stael, 357) Here, Stael characterizes Corinne as whiny and oblivious. By asking "Why
has all that gone so badly?" Corinne externalizes the blame for her sorrow instead of actually
confronting her role in the loss of her love, Oswald. This lament is veiled as self-analysis through
the phrase "examine myself as a stranger," highlighting Stael's critique of Corinne: she believes
she is self-aware, yet takes herself too seriously to detach from the potency of her emotions. Like
Corinne, Cher does not possess the mechanism of self-referential irony to cope with her
struggles. Instead, she fails to appreciate the contradictions of her personality simply because she
cannot view them as such. After receiving an unsatisfactory report card at the beginning of the
film, Cher hatches a plan to set up two teachers at her high school in hopes that their romance
will lead to elevated moods, and therefore easier grading. When the two teachers eventually
become smitten with one another, one stops assigning homework and the other raises Cher's 'C'
to an 'A-.' "I felt satisfied so I wanted to do more good deeds," Cher narrates to the audience
after reaping the benefits of her plan. Heckerling sets up her protagonist through the satire of her
nature. By characterizing Cher as manipulative, yet innocent, she invites viewers to laugh at
Cher's self-centeredness while also making it clear that she really does see herself as a do-
gooder. In establishing this contradiction as a motif early on in the film, Horowitz frames Cher
with a humorous irony that underscores the young girl's inability to engage in self-reflection.
Overall, Cher's self-absorbed nature bears more resemblance to Corinne's self-pity, while Cher's
double standard for herself and others represents a similarity to Princess Mimi's character.
Cher's cluelessness is a parody, but its central role in the film's message underscores the idea
that a lack of self-awareness is essential to the character of a romantic heroine.
Princess Mimi and Corinne are both involved and well-known within their respective
upper-class societies, yet at the same time, they make deliberate efforts to put distance between
themselves and their societies. Like these two characters, Cher's role in society is paradoxically
defined by her selective avoidance of it. While Corinne benefits from being well-liked and
admired by society, she struggles to find individuality and acceptance within social life;
therefore, she could be labeled as somewhat of an 'anti-socialite' in that she creates her own
world, seemingly above society, to exist in free of judgment and interpersonal conflict. "I would
like to be able to enjoy society's pleasures. In the past I used to love them, they used to do me
good, reflection and solitude used to take me too far ahead," Corinne writes in a series of
musings after splitting from Oswald (Stael, 358). In this quote, Stael engineers Corinne to feign a
desire to participate in society. The "reflection and solitude" that Corrinne says "take [her] too
far ahead," are essential to her success as an artist and therefore her belovedness within society.
This characterization represents the central need of a romantic hero or heroine to feel distinct
from society so they may deem their thoughts and feelings unique from such homogeneity.
Meanwhile, Princess Mimi's view of and position in society is encapsulated by her manipulative
personality and status as a single woman. "At last her cup ran over: Mimi saw that if not by
marriage, then by other means one must support oneself in society, give oneself some kind of
significance, occupy some kind of place; and craftiness — that dark, timid, slow craftiness which
makes society hateful and little by little destroys its foundations, — this social craftiness
developed to full perfection in Princess Mimi." (Odoevsky, 27) Odoevsky explicitly sets up
Mimi as an anomaly within society by defining her role in social life as one of manipulation.
However, a caveat to Mimi's satisfaction with her manipulation of Gravitsky and the young
Baron is that she must participate in balls and other social events to orchestrate and observe her
plan. Cher shares this trait of the romantic heroine; she effortlessly interfaces with high school
social life by attending parties and eating lunch in her school cafeteria, yet she believes she is
above certain things, such as dating her contemporaries. "I don't know why Dionne is going out
with a high school boy. They're like dogs. You have to clean them and feed them and they're just
like these nervous creatures that jump and slobber all over you," Cher narrates after introducing
her best friend's boyfriend. Cher's teacher set-up plot won her favor at school by raising
everyone's grades, but she still keeps considerable distance from many of her classmates, with
the exception of her best friend, Dionne. In creating this distance, Cher embodies the ideal that a
romantic heroine must be well-known and well-liked within society, yet also exist at a level
above it in order to possess a special status that underscores the uniqueness of her character.
Though similar to Mimi and Corinne in her lack of self-awareness and unique role in
society, Cher's optimism marks a departure from the other characteristics of a romantic heroine.
While Cher is comically ignorant, her positive outlook on life is informed by her genuinely
optimistic faith and trust of those around her. In contrast, Corinne's pessimism is what colors her
actions and begets greater despair. "Why tell me I was charming, if I was not to be loved? Why
make me feel I could trust you, so that it was all the more terrible for me to be disillusioned?"
Corinne discusses Oswald's desertion of her in a fragment of her notes (Stael, 357). Here,
Corinne's ill-feelings towards Oswald represent an oversimplification of the issue. By
highlighting Corinne's omission of the fact that she relinquished Oswald's promise ring, as well
as Oswald's repeated declarations of love to her, Stael characterizes her romantic protagonist as
fraught with despair. Similarly, Mimi's bitterness is a vicious cycle that only leads to greater
bitterness. "Oh, I care very little about [marriage]. It's better to stay a spinster all my life than to
marry some sickly cripple and drag him from ball to ball until he dies," Mimi says to her married
sister (Odoevsky, 35) Here, Odoevsky juxtaposes Mimi's supposed indifference to marriage with
her tragic past of failed unions to underscore how her she disguises her disillusionment with the
institution of marriage as nonchalance. In reality, her life as a "spinster" involves manipulative
intervention in the love affairs of others and her scorn of marriage is only a mask for how
resigned to being single she really is. In contrast to all this, Cher's optimism still signifies a shift
from the brooding pessimism of the romantic heroine. "Later, while we were learning about the
Pismo Beach disaster, I decided I needed a complete make-over, except this time I'd make-over
my soul. But what makes someone a better person? And then I realized, all my friends were
really good in different ways. Like, Christian, he always wants things to be beautiful and
interesting. Or Dionne and Murray, when they think no one is watching, are so considerate of
each other. And poor Miss Giest, always trying to get us involved, no matter how much we
resist?" Cher says to herself towards the end of the film (Heckerling, Clueless). While Cher's
manipulation and self-serving actions are objectively worthy of scorn, the audience cannot help
but feel bad for her on account of her cluelessness and cheer her on for her desire to become a
"better person." Ultimately, the irony of Cher's character is defined in part by the contradiction
between her unrealized selfishness and her genuine desire to do good. While readers feel for the
sorrow and bitterness of Corinne and Mimi, they champion Cher in her blissful ignorance as a
refreshing take on the woeful contemplation which typically defines the romantic heroine.
In the end, Cher embodies two very central traits to the romantic heroine: she takes
herself too seriously to laugh at the ironies of her personality and reluctantly exists within society
while believing herself to be above it. However, Cher's difference in demeanor and worldview is
a more notable characterization of her distinct heroism because it reflects her small-mindedness.
Cher is both a celebration and a critique of her generation. Heckerling intelligently walks the line
between the two by making a shallow, self-centered girl into an innocent heroine whose good
intentions are believable. The audience roots for Cher because she is clueless, but they laugh at
her because she doesn't know it. Thus, Heckerling makes an argument through Cher that seems
to parallel that of Stael's and Odoevsky's: Cher is happy because she is ignorant of her
shortcomings and their ramifications, therefore, any level-headed hero must be a hardline
pessimist in order to acknowledge the ugly realities of themselves and their world. Though
created centuries after the peak of romantic literature, Cher's ignorance settles the definition of
the romantic heroine: she who drives the plot cannot achieve happiness so long as she is
enlightened.
---