Introduction
The Auteur Theory was originally popularized by American movie critic Andrew Sarris, who attempted to define a film director's qualification of an auteurship as a "distinguishable personality of the director as a criterion of value." Based off Sarris' definition, this blog plans to define what it means to be an auteur, not only in the director's chair, but also in any profession of the entertainment industry. Each week, the blog will profile a new director, novelists, actor or musician in the hopes of demonstrating what it takes to become an artist with a distinct voice and earn the title of auteur.
Terrence Malick
Film Writer/Director
Age 67
Most Famous Works: Badlands (1973), Days of Heaven (1978), The Thin Red Line (1998)
Malick has been writing and directing feature films for over four decades. Despite his longevity in the industry however, the man has only released four motion pictures, with his fifth, The Tree of Life arriving in theaters this May. While at first this may look to be a sign of poor work ethic, the exceptional quality of Malick's finished product can only point to the fact that Malick has a slow, methodical approach to his films, choosing to work hard to get everything right, rather than rushing to a release date. It is Malick's perseverance and embrace of a perfectionist approach to filmmaking that has earned him the title of auteur ever since the release of his second film Days of Heaven.
Like the greatest auteurs, Malick's filmmaking style is so specific that his films are immediately recognizable even by someone stopping on a TV station for just moments while channel surfing. Malick's use of existential narration, lingering scenery shots, and insistence on shooting exclusively with natural lighting are only some of the director's trademarks that make his style synonymous with his name. While his approach to filmmaking does not always seem to be the best way to tell a story, Malick's decision to do it his way and never sell out to traditional Hollywood narrative are two characteristics that make him exceptionally admirable and even unique in the world of cinema.
Of course no great artist comes without his quirks. Malick's depressingly thin résumé is in large part due to a mysterious twenty-year hiatus he took between '78 and '98 which he spent living in Paris, allegedly teaching and performing uncredited rewrites on studio scripts for a living. In addition, he has become infamous for being a recluse cut from the same cloth as J.D. Salinger and Howard Hughes. But his flaws can all be forgiven thanks to his bold determination to create true art, and the building excitement of a new Malick film only months away from finally hitting theaters.
Most Aesthetically Pleasing Scene
There are few things in cinema as beautiful and haunting as Richard Gere's Bill standing in a field of flying locusts in Days of Heaven. For me, this is the defining moment of Malick's career for it combines his incredible technical ability (the locusts were actually created by reversing the clip direction of hundreds of peanut shells being dropped from a crane) with his undying will to deliver breathtaking art.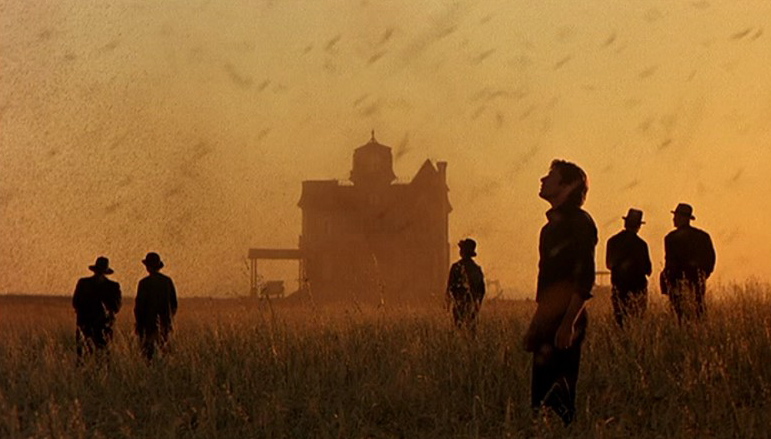 ---