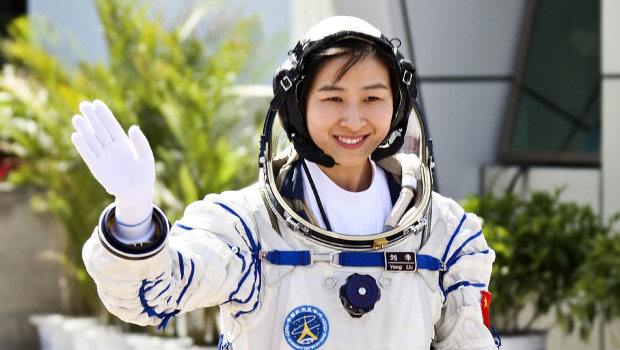 "From day one, I have been told I am no different from the male   astronauts. As a pilot, I flew in the sky. Now that I am an astronaut, I will fly in space."
-Liu Yang
Liu Yang is China's first female astronaut to travel into space. Yang began her journey towards space when she enrolled in aviation school and later enlisted in the People's Liberation Army Air Force. She had logged over 1,680 hours of flight time and earned the rank of major and deputy head of flight unit. She is well known was staying cool under pressure after a strike disabled one engine on her plane and she was able to calmly avert a crisis earning herself the name, "little flying Knight". Her accomplishments and strength as a fighter pilot enabled her to be selected into a rigorous process and intense 2 years of astronautic training before she joined two male astronauts for her first mission to space.
Liu Yang currently lives in Beijing but is originally from Henan, a heavily populated agricultural region in central China. Liu Yang is not only amazing in the sky, but is also an eloquent speaker and loves to read and cook.
Liu Yang's appointment to join the Shenzhou 9 as it made its journey towards the Tiangong (Heavenly Palace), a prototype of a proposed new Chinese space lab,  did not go unnoticed by the many inhabitants of China and she was greatly praised for her accomplishments. She became the pride of Henan and a national sensation. A spokesperson for China's space program said that having her on board would not only help the program to test new equipment specifically designed for women in space, but would also expand the social impact of the mission. The spokesperson referenced a common Chinese proverb when referring to Liu Yang, saying "Women hold up half the sky. Human space missions without women are incomplete". Her words of wisdom helped to solidify Liu Yang as a role model for young Chinese women who dreamed of space themselves. Liu Yang is currently preparing for another possible mission.
________________________________________________________________________________________
Sources: LiveScience "China's First Female Astronaut", Space"Q and A with Liu Yang", BBB "Profile of Liu Yang"
---